Menstuff® has compiled the following information on Bobby Knight. It's nice to see that a change of scenery has done little to temper the lunacy of Bobby Knight, the unstable college basketball coach. Our question: Just how many chances do you give an unrepentant abuser?
2006
Epidemic Hits Texas - Mad Knight Disease
Knight hasn't changed ... and he never will
Texas Tech AD defends Knight's actions
Bobby Knight "Please Slap My Child" Charity Auction
Epidemic Hits Texas - Mad Knight Disease.

---
Texas Tech basketball coach Bobby "The Hit Man" Knight Bumps Player on Chin. - Video
Source: http://video.msn.com/v/us/v.htm?g=30458DDC-F41D-47C9-9DEB-E76FB35B2CB1,5175E705-3339-46D0-B772-335954E7BE03&t=c160&f=06/64&p=&GT1=8717

Texas Tech AD defends Knight's actions

---
Texas Tech athletic director Gerald Myers insisted Tuesday that Bob Knight did nothing wrong when he "quickly lifted" the chin of Michael Prince in the latest clash between the hot-tempered coach and a player.

Prince and his parents also defended Knight, who confronted the forward and pushed his chin upward, as if to make him look the coach in the eye, during a timeout late in the Red Raiders' 86-74 victory against Gardner-Webb on Monday night.

"Coach Knight did not slap Michael," Myers said in a statement. "Michael came off the court with his head down and coach Knight quickly lifted Michael's chin and said, 'Hold your head up and don't worry about your mistakes. Just play the game."'

Knight, with a history of chair-throwing, referee baiting and run-ins with school officials, was not available for comment Tuesday.

Prince told the Lubbock Avalanche-Journal after Monday's game that what happened with the coach "was nothing."

"He was trying to teach me and I had my head down, so he raised my chin up," said Prince, who was seen moving his jaw around as he sat on the bench after the confrontation. "He was telling me to go out there and don't be afraid to make mistakes. He said I was being too hard on myself."

Prince's mother, Suzette Prince, told the Avalanche-Journal she and her husband, Mike, were sitting across from the Tech bench and she doesn't feel this should be an issue.

"We talked with Michael and he had just committed two fouls in a row," Suzette Prince said. "He told us that Coach Knight was asking him if he's ready to play. He said they needed him ready to play."

She said she didn't think Knight should be reprimanded.

Knight gave a brief statement at the postgame news conference then answered one question before exiting the room, but the episode with Prince was never addressed.

It was win No. 871 for Knight, who is five shy of tying Adolph Rupp for second place on the career list. He needs nine more victories to surpass Dean Smith for the most victories in Division I history.

Knight's career has featured three national championships, all at Indiana, but plenty of outbursts.

In 1992, Knight kicked a chair on the bench while son Pat, then a player for him at Indiana and now his assistant and successor-to-be at Texas Tech, was sitting in it. When fans behind the team bench booed, Knight turned and responded with an obscenity.

He was accused of grabbing a player by the throat during a practice in 1997, an episode that was caught on videotape and created the whirlwind that eventually led to his firing from Indiana in September 2000.

Knight was fired for what Indiana officials called a violation of a zero-tolerance behavior policy shortly after he grabbed the arm of a student who greeted him on campus by saying "Hey, what's up, Knight?"

His most infamous moment came in a game against Purdue in 1985, when he threw a chair across the court after being assessed a technical foul.
Source: msn.foxsports.com/cbk/story/6170458?FSO1&ATT=HCP&GT1=8807

Knight hasn't changed ... and he never will

---
The Texas Tech head coach was at it again on Monday night, grabbing the chin of Red Raiders sophomore forward Michael Prince during a timeout after the player didn't appear to be making eye contact with his coach during a timeout.

Knight has thrown chairs across the court, thrown a photographer into the bushes, kicked his son and shoved a fan of an opposing team into a garbage can. He twisted the arm of an Indiana freshman and cursed at him for addressing him as "Hey, Knight" instead of "Mr. Knight" or "Coach Knight."

Who knows what he's done behind closed doors in practices and in meetings?

Most kids don't want to play for Knight, but some don't have much of a choice if they want to play at a high-major level. That's the case for many of the players up and down the Texas Tech roster -- who weren't all that heavily recruited coming out of high school, but still wanted to play at the highest level.

Prince was a mid-major recruit coming out of Plano West in a suburb of Dallas two years ago.

"I've never met a better kid, ever," said Team Texas coach Wes Grandstaff, who coached Prince until he left for an expanded role with a smaller AAU team. "He's first class and his parents are two of the classiest people I've ever met."

Knight doesn't care. He's grizzled and only knows one way.

His way.

While Knight will soon become the all-time winningest men's basketball coach (he is nine victories shy), he will never be in the same class as Dean Smith.

Smith did it the right way. He didn't beat kids down so badly that they had no self-esteem left. He didn't have to hit them.

He got the respect of college kids the way it should be done — without having to instill the fear of physical harm.

Bob Knight got a little irked during Monday night's game with Gardner-Webb. (The Daily Toreador, Karl Anderson / Associated Press)

Was it the worst thing that Knight has done in his coaching career when he grabbed Prince's chin late in the team's 86-74 win against Gardner-Webb? Not even close.

But was it necessary? Probably not.

I'm all for manners and kids listening to their coach, but there is a right way and a wrong way to do things. Prince told the Lubbock Avalanche-Journal "it was nothing" after the incident, but enough is enough.

Times have changed, whether Knight likes it or not. He may as well call it a career after he breaks the record this season, then he can hand the program over to his son, Pat.

Because if not, one of these days, Knight's going to challenge one of his players and find himself picking himself back off the ground.

Let's see how tough he is then.

Source: Jeff Goodman is a senior college basketball writer for FOXSports.com. He can be reached at GoodmanonFOX@aol.com or see article at msn.foxsports.com/cbk/story/6171350

Bobby Knight "Please Slap My Child" Charity Auction

---
Does Your Child Need to Be Slapped?

This week, Texas Tech Basketball Coach Bob "Don't Call Me Bobby" Knight was caught on camera slapping one of his players during a game. Knight, the school, and the player's parents all defend the action. In fact, the kid's parents say he probably deserved it! So we thought, hey, why not auction off Bob's services to slap your kid back into shape?

There have to be a few spoiled kids out there, and all the proceeds will go to our favorite charity: The Barry Bonds "Let's Keep Kids Off Steroids So There Are Enough for the Adults" Foundation.

We tried to post this on eBay, but they have some kind of runs against this stuff, so we created this interactive blog where you can add a comment (click on "comments" below this post) that includes the first name of your child, why they need to be slapped, and how much you would pay Bob Knight to slap some sense into them. After we get your bids, we'll call Coach Knight and see when we can get the two of your together for some good old-fashioned parenting!

The auction will end on Friday, November 16 or when our lawyers tell us we need to pull it. So get your bids in early! America's youth need some sense knocked into them.
Source: www.badjocks.com/blog/

Bobby Knight, the infantile college basketball legend, is up to his old, tired tricks. The psychotic coach, who was exiled to Texas Tech after being run out of Indiana University, had his wrist slapped this week for a bizarre run-in with Chancellor Dr. David Smith at, of all places, a Lubbock salad bar. Details of Knight's tirade Monday are contained in the below February 2 memo written by Smith, which Texas Tech's general counsel provided in response to an open records law request. The university also released a draft memo to Knight from Gerald Myers, Tech's athletic director, noting that he would be reprimanded and suspended for three games. Anticipating that discipline, the school prepared a draft press release announcing Knight's brief ban. But before the suspension could be announced, Myers apparently changed his mind, pleading with Smith in a February 3 memo that Knight's suspension would be "detrimental to a positive resolution of the issues involved." When Tech's disciplinary action was announced Tuesday afternoon, the suspension had evaporated. Until next time, the enabling continues.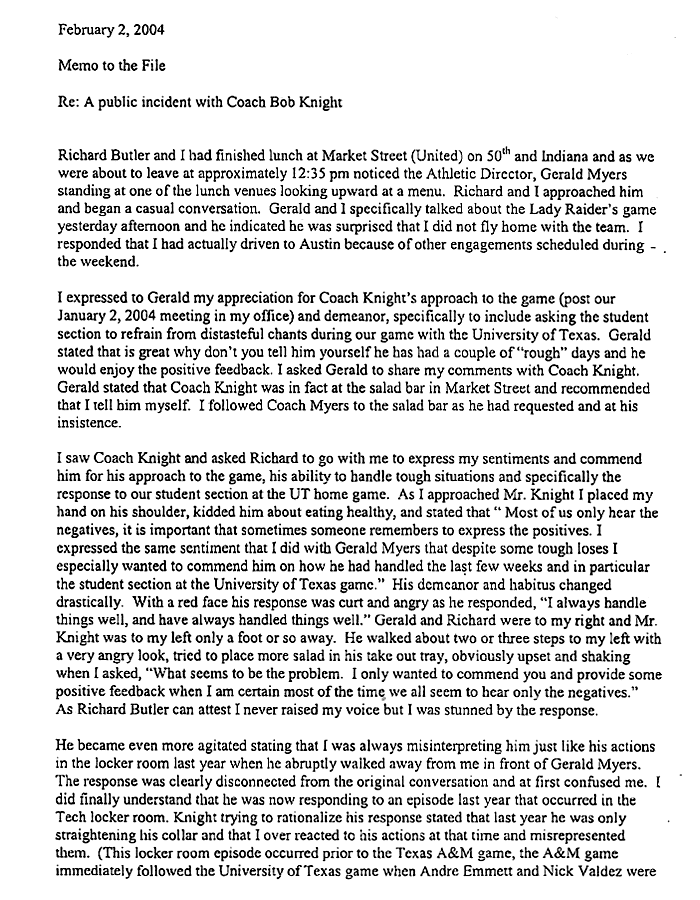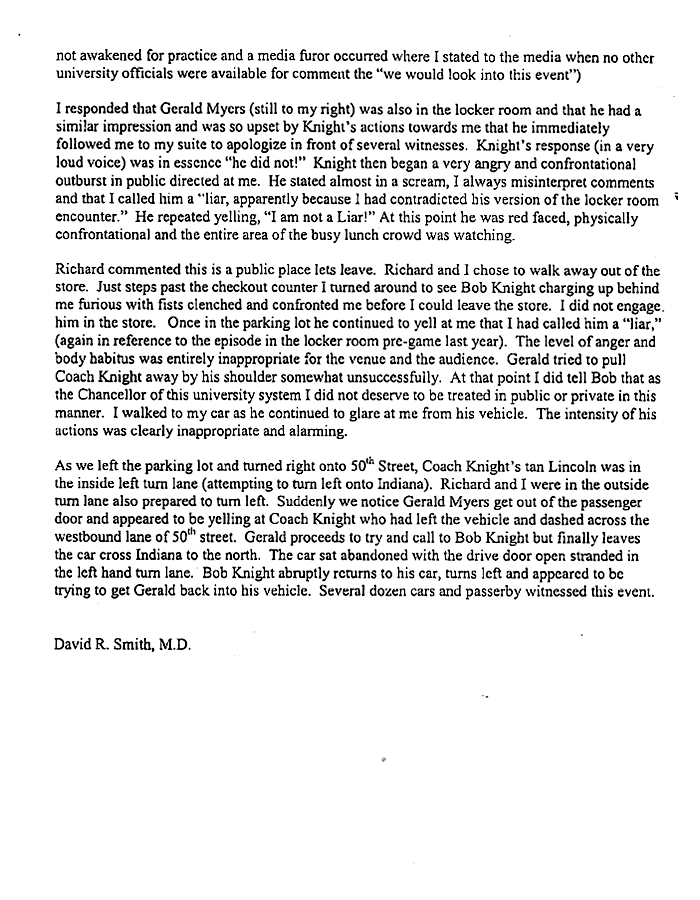 Source: www.thesmokinggun.com/archive/bknight1.html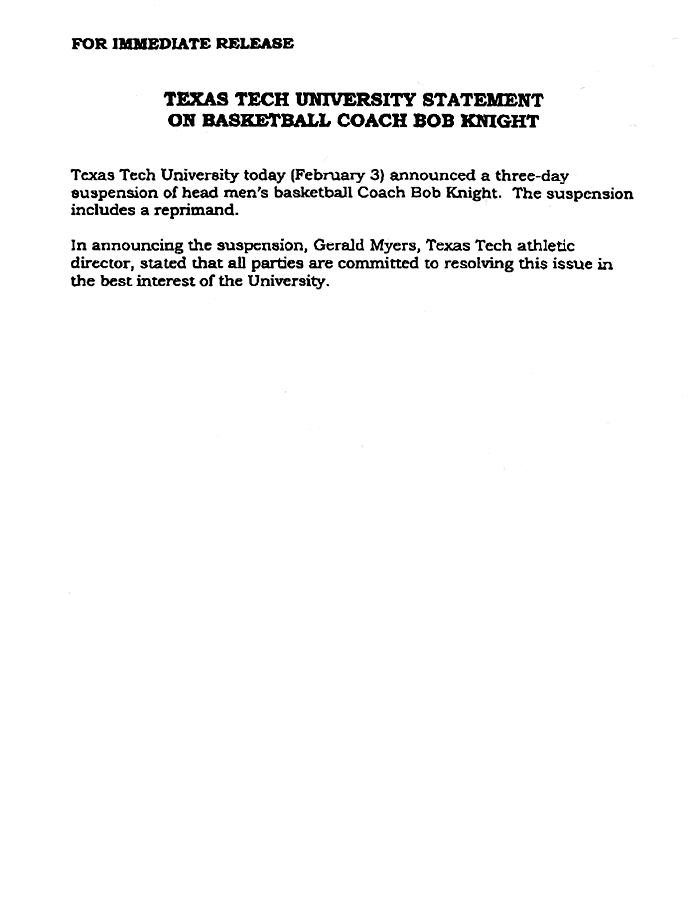 ---
| | | |
| --- | --- | --- |
| | | |
Disclaimer | Privacy Statement
Menstuff® Directory
Menstuff® is a registered trademark of The National Men's Resource Center™
©1996-2019, The National Men's Resource Center