Wal Mart Encouranges "No Boundaries"

---
Wal Mart refused to carry RU-486 which allows our daughter's control over their own bodies but in their 1/30-2/5/02 "Valentine's Day" direct mail supplement they encourage "No Boundaries" through the sale of "panties" called "No Boundaries®" using a federally registered and trademarked name. They also sell "Secret Treasures" bikini thongs and "Lovable Satin" bras. Just who are they trying to seduce? (See ad above.) Note: Wal Mart has aquiested, maybe because of pressure from the states, to carry RU-486 (prescriptions only) and condoms, which are often hidden around the pharmacy.

Each year Wal Mart adds to its "No Boundaries" thong line for young girls. Here are a few of the new messages purchased at Wal Mart on 2/3/08:




Click on photo to enlarge


Click on photo to enlarge.
See story below.
"No Boundaries Juniors T-Shirts purchased at Wal Mart in Poway, CA on 8/13/07

---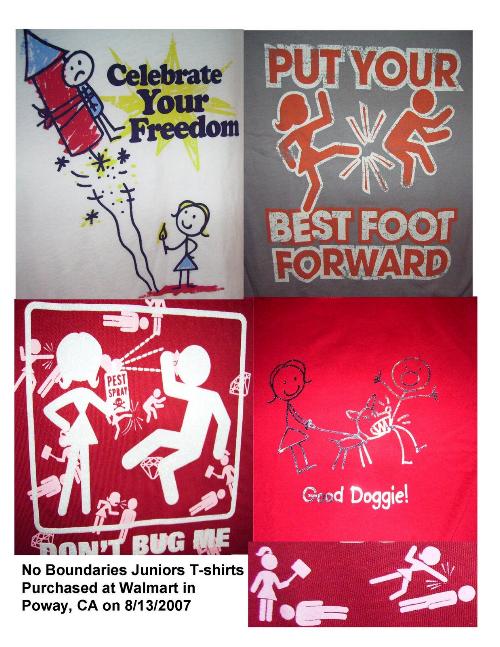 For 2007 Wal Mart also advertised the "No Boundries" Hipster Panties along with the "No Boundries" Thong Panties.


Click on ad
In 2005, they've added screen-printed shorts to the "Girls' No Boundaries' line of products."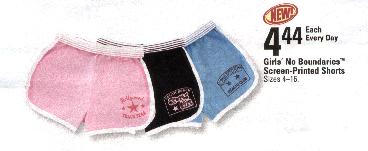 In 2003/04 they expanded their use of seductive names to, once again, promote Junior Intimates (underwear). The ad includes "Juniors' No Boundaries Bra and Panty Set", "Juniors' No Boundaries Panties" in new designs, "Juniors' No Boundaries Woven Boxers" and "Ladies' Secret Treasures Boyleg Panty".
| | |
| --- | --- |
| Click on ad | Click on ad |

Wal Mart "Junior" Panties Suggest that a Young Girl's Genitals Will be more Effective than Credit Cards

---
"Over at Feministing, a reader noticed these panties in the "juniors" section at the Wal Mart on Kildare Farms Road in Cary, NC.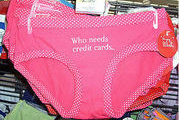 "Who needs credit cards."
"While we can't disagree with the strict literal interpretation of the message, perhaps Wal Mart should consider printing it on a wallet, rather than on panties meant for teenage girls. The whole prostitution angle is clouding the message of fiscal responsibility. Hey, it's just a suggestion."
Source: consumerist.com/consumer/gross/walmart-junior-panties-suggest-that-your-genitals-are-better-than-credit-cards-332465.php

Wal Mart says "we welcome your comments, suggestions and questions...please contact us using any of the methods below." Wal-Mart Stores, Inc. Bentonville, Arkansas 72716-8611 or 800.WAL.MART. You can use their on-line email form. However, not only is your email address required, but your mailing address is also required - probably to send out more junk mail. If you don't mind having to supply all of this personal information, their web site is www.walmart.com

Various executives include: S. Robson Walton, COB; J. Lee Scott, Pres and CEO; Robert F. Connolly, Exec VP, Marketing and Consumer Communication, Wal-Mart Stores Division.
Semi-Related Topics: Hooters and Bikini Wax

* * *

---
| | | |
| --- | --- | --- |
| | | |
Contact Us | Disclaimer | Privacy Statement
Menstuff® Directory
Menstuff® is a registered trademark of Gordon Clay
©1996-2019, Gordon Clay