Barbie

---
Menstuff® has information on Barbie.

Curvy Barbie is here -- and petite Barbie, too!
They Gave Each Kid A Barbie And A Doll With Real Proportions. What They Say Next Really Says It All.
Barbie gets leather and fishnets
Judge Gives Bratz a Break Through 2009

Curvy Barbie is here -- and petite Barbie, too!

---
The most iconic doll in the world -- she's been in our hearts and in our homes since the late 1950s -- has made a few changes. Barbie's recent fall "Imagine the Possibilities" campaign went viral, but there has always been some negative connotation around the doll's unrealistic body proportions and the body-image impact this could have on young girls.
Today, Mattel released three new body types for Barbie, in addition to the original: Petite, Tall and Curvy. Each is also available in different skin- and hair-color combinations, and also offer a flat-footed option (for those of us who don't spend our lives in heels!).
Our friends at Glamour debuted the dolls in an exclusive, speaking with the team behind Barbie.
"Barbie was never designed to replicate the female body," insists Michelle Chidoni, head of communications for all things Barbie. "She was a vehicle for play." But her unrealistic shape has long dominated the conversation: The International Journal of Eating Disorders reports that the odds of being born with a Barbie-like body are less than 100,000 to 1; the doll's teeny-tiny waist would accommodate just half a liver and a few inches of intestine, experts say, and her überlong neck would wilt under the weight of her disproportionately huge head.
Mattel realized they could likely attribute a 4-year sales slump to the fact that millennial parents associate a negative connotation with Barbie for this very reason -- and it was time to make a change if they wanted to bring Barbie back as a favorite for children. The relaunch was no small feat.
The process of relaunching the doll was super secret and featured high-profile collaborators like American Ballet Theatre principal dancer Misty Copeland and award-winning documentarian Rory Kennedy (Ethel, Ghosts of Abu Ghraib), who produced a video about the making of the new dolls. "Will they change the world?" she says. "No. But it's relevant for little girls to see a doll that looks like them."
We echo Glamour's feelings that of course, the dolls aren't perfect, but they're a pretty great start. There's nothing more powerful than showing young girls that who they are, how they look, and how they feel matters -- and one small way to encourage self-confidence and acceptance is to give them a doll that looks a little bit more like them. Because no child should feel that if she doesn't look like Barbie, she's not beautiful. Here's to the new Barbies, and continuing to empower young girls.
Source: www.aol.com/article/2016/01/28/curvy-barbie-is-here-and-petite-barbie-too/21304334/?icid=maing-fluid%7Camp-bon%7Cdl1%7Csec1_lnk2%26pLid%3D975467803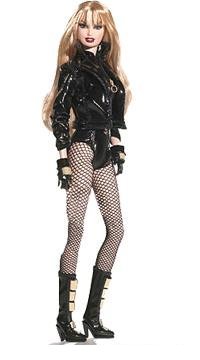 Barbie gets leather and fishnets

---
Barbie has always provoked strong emotions in some, but with the introduction of Bratz dolls, she seemed downright quaint. Well, she is quaint no more. With Mattel's September release of a doll based on the DC comic superhero Black Canary, Barbie is going to find herself back on the naughty girl list.

Clad in black thigh-high leather boots and gloves, fishnet stockings and a motorcycle jacket, this S&M Barbie is stirring more than little girls' imaginations. A spokesman for the religious group Christian Voice finds this sexed-up plaything to be just too much. "Barbie has always been on the tarty side and this is taking it too far. A children's doll in sexually suggestive clothing is irresponsible – it's filth."

I agree that perhaps this isn't Barbie's best look and wouldn't buy it for my kid. But that won't be a problem because she doesn't want Black Canary. When I showed her this photo and asked for her opinion, she looked aghast. "She's not wearing any pants!" she exclaimed. Good girl.
Source: Sandy Maple, www.parentdish.com/2008/07/17/barbie-gets-leather-and-fishnets/?icid=200100397x1206049048x1200279893

They Gave Each Kid A Barbie And A Doll With Real Proportions. What They Say Next Really Says It All.

---
Barbie's supposed to be the "all-American girl" with the amazing wardrobe, perfect boyfriend, a million careers, and the dream house every girl wants. But when you compare her to the average American woman, things don't quite measure up. So an artist decided to create a doll modeled after the average American teenager, and the results are pretty amazing.

What's wrong with Barbie?

Well, for one thing, her body dimensions are completely unrealistic. For a school project on eating disorders, college student Galia Slayen took Barbie's measurements and created a life-size version that is disturbing to say the least.

Barbie's unnatural body dimensions inspired Nickolay Lamm.

Artist Nickolay Lamm had the idea to create a new doll based on the dimensions of the average American teenager. He hoped that by creating a toy with a more realistic body type, it might help make kids feel better about themselves.

He took his concept for Lammily, the "average" doll, to Kickstarter in March 2014 to crowdfund the idea. The project quickly went viral, raising over $100,000 in just a few days. In November 2014, Nickolay took one of the first finished Lammily dolls to a local elementary school to see what children would think of her in comparison to the traditional Barbie doll.

What did second-graders have to say about Lammily?

Pretty powerful stuff right? For me, the way they answered the jobs question really stood out to me. Now don't get me wrong, I don't think conventionally beautiful or thin women aren't smart or deserve to be judged on their looks. But these children's comments are symptomatic of the messages our society perpetuates about beauty, intelligence, and body image. And that's precisely the problem.

This just goes to show that it's so important that kids have a variety of diverse and realistic representations of people in order to develop healthy body image and self esteem. That's why it's so awesome that a doll like Lammily exists. I can only hope other toy makers will take note and we'll see more diverse and realistic dolls for our kids to play with in the near future!

Take a look at what the other second-graders had to say about Lammily along with a special behind-the-scenes Lammily photo shoot below. And if you think kids deserve more realistic dolls like Lammilly, consider sharing this post!
(Editor's note: Check out the link below to see a six minute video of the student's reactions. - Gordon Clay)
Source: www.upworthy.com/they-gave-each-kid-a-barbie-and-a-doll-with-real-proportions-what-they-say-next-really-says-it-all?c=reccon3

Judge Gives Bratz a Break Through 2009

---
The judge who barred MGA Entertainment Inc. from selling or making its popular Bratz dolls agreed Tuesday to extend a deadline he set for the company to take the products off store shelves.

The Bratz brand has raked in nearly $778 million in profits for MGA through June 2008.

MGA, which was initially told to stop selling Bratz by Feb. 11, had argued in court that retailers would not order the toys unless the court could guarantee they would remain in stores through most of 2009. U.S. District Judge Stephen Larson obliged, and allowed MGA to file a motion for a later deadline by next week.

"Given the clear importance of the Bratz line to MGA's financial health, it's not a big leap to see that (the February deadline) would have significant economic impact on the viability of MGA," Larson said.

Earlier this month, the judge ruled that MGA must stop manufacturing and selling Bratz — marking a victory for rival Barbie maker Mattel Inc., which sued MGA four years ago for copyright infringement.

Larson's ban order followed a jury's finding that Bratz designer Carter Bryant developed the concept for Bratz while working for Mattel. The jury awarded Mattel a combined $100 million after a lengthy trial.
Source: www.walletpop.com/article/_a/bbdp/judge-gives-bratz-a-break-through-2017/268313?icid=200100397x1215775929x1201041570

* * *

---
Contact Us | Disclaimer | Privacy Statement
Menstuff® Directory
Menstuff® is a registered trademark of Gordon Clay
©1996-2019, Gordon Clay