Calvin Klein

---
Menstuff® has information on Calvin Klein.

Calvin Klein's Shock and Awe Campaign

---
Calvin Klein has built a fortune on controversy. From the suggestive 1980s commercial where a then-14-year-old Brooke Shields seductively looked into the camera and admitted to going commando, to the Secret Obsession fragrance ad depicting a naked, nipple-baring Eva Mendes (the ad was later banned from TV), Calvin Klein has always branded his product with the suggestion of sex presented in a way to shock the viewer.

Now, the world-famous jeans corporation is stirring up debate with its latest ad campaign involving a billboard in New York's trendy, stroller-friendly SoHo neighborhood.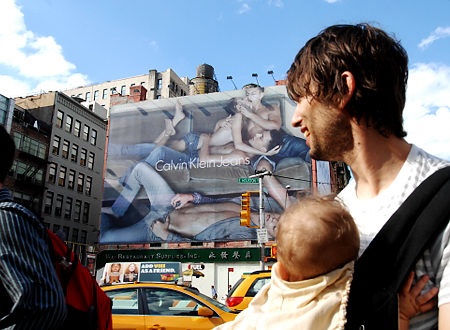 Calvin Klein's provocative billboard at Houston Street and Lafayette Strees in New York
The ad in question depicts a very young-looking teenage girl wearing a tiny pair of jean cut-off shorts, laying on top of one half-naked young man and kissing a second young man. A third half-naked teenager lies on the floor next to the three with his pants undone.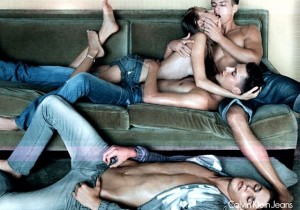 What is Calvin Klein selling? Oh, that's right: jeans.
Asked about the message in the ad, a Calvin Klein spokesman said, "[the] intention was to create a very sexy campaign that speaks to our targeted demographic." This statement is questionable considering the ad is plastered on a billboard for everyone to see, including children and teens.
Calvin Klein menswear designer Italo Zucchelli spoke out in favor of the ad more fervently. "I think it is a fantastic campaign. That is what Calvin Klein Jeans is supposed to be. Everyone needs to be scandalized and screaming. That is what we want." Zucchelli went even further to hope the controversial nature of the ads would shock some viewers into spending. "I hope they're going to be, 'Ooooh, what is that?' And then they buy our jeans. In the best tradition of Calvin Klein."
Whether you find yourself shocked by this particular billboard or not, it raises questions about the messages Calvin Klein's advertising deems valuable to promote. Calvin Klein deviates from the norm in the respect that highly sexualized images of young men are prominently featured, as opposed to women alone. This billboard of three men and one woman is a perfect example. What kind of statement does this ad make about young women and men as sexual objects? And what kind of impact will it have on the thousands of children and teens who will see it? Shoppers need to answer these questions for themselves.
The hope is that Calvin Klein, as well as other businesses that choose to sell based on shocking imagery, will realize smart consumers are not so easy to manipulate. Calvin Klein is free to target his "demographic," but this does not include people who disagree with the sexual objectification of women and men, no matter how provocative the ad campaign. A truly smart consumer can see through the sex and shock, and choose to spend their hard-earned money elsewhere.
Contact Calvin Klein, Inc. and let them know how you feel about their advertising habits by either calling or writing a letter to:
Calvin Klein, Inc.
205 West 39th Street, 4th Floor
New York, NY 10018-3102
212-719-2600
Source: about-face.org/blog/archives/658

* * *

---
Contact Us | Disclaimer | Privacy Statement
Menstuff® Directory
Menstuff® is a registered trademark of Gordon Clay
©1996-2019, Gordon Clay