Claire's

---
Menstuff® has information on Claire's shop for tweens and the selling of flasks to their young customers. You know, the gaudy junk jewelry store inside almost every mall in America. We're wondering why flasks aren't seen similar to drug paraphernalia, especially when you can buy one even if you aren't tall enough to reach up to put your money on the counter?

Advocates Call on 'Tween Stores to Stop Selling Flasks
Flasks under fire
Oregon Partnership Tells Claire's: Response To Flask Flap Comes Up Woefully Short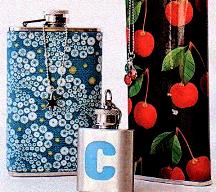 Note: While Icing is an "adult" version of Claire's, and it has signs up that they don't condone consumption of alcohol for those under 21, nevertheless, they are more than willing to sell the product to anyone, anyage. The product is for alcohol and not other liquids. I guess anything that makes a profit is okay. - Editor

Advocates Call on 'Tween Stores to Stop Selling Flasks

---
Underage drinking advocates are calling on the teen accessory store chain, Icing by Claire's, to stop selling girl-friendly flasks, the Chicago Sun Times reported Jan. 23.

Flasks decorated with charms and designed to hold 5 ounces of liquor are available for $12.50, and one-shot keychain flasks with room for the individual's initials are available for $8.50 each.

The flasks show disclaimers that the product is not meant for minors, and warns that the flasks are designed to carry alcoholic beverages and should not be used for beverages with acidic contents like fruit juices.

Advocates are concerned that Icing by Claire's is encouraging underage drinking by selling flasks, while targeting its products to girls as young as 17. Icing by Claire's is a subsidiary of Claire's, Inc., which operates approximately 3,000 stores throughout the U.S. and Europe.

Recent studies show that girls are drinking earlier and increasing their alcohol intake. For example, the rate of 14-year-old girls using alcohol escalated from one in ten to almost one-third over the last 40 years. "In many cases, the girls are outdrinking the boys, putting themselves at greater risks," said Janet Williams, co-chairman of the Illinois Coalition to Stop Underage Drinking, which wrote a letter to parent-company Claire's.

It appears that youth are gravitating towards hard liquor like rum and tequila in an effort to get drunk faster, according to Elizabeth Nelson, a community health specialist at the Lake County Health Department.

"Anything that promotes the perception that alcohol use is acceptable with young people is really disturbing," Nelson said.

Oregon Partnership announced that Icing by Claire's said it will continue selling the flasks at its 3,000 stores, but will post signs at store counters supporting "responsible" alcohol consumption.


Source: www.jointogether.org/news/headlines/inthenews/2009/advocates-call-on-tween.html

---
Cutie designs, labels stress booze -- proof positive the containers encourage minor girls to drink, groups say

Anti-juvenile drinking forces are calling on a Hoffman Estates-linked accessories company to stop selling flasks at its stores across the country.

Icing by Claire's, a subsidiary of tween accessory shop chain Claire's Stores Inc., sells flasks printed with girl-friendly designs, chains and charms, raising concerns of groups who say having the flasks in stores that target girls as young as 17 indicates an acceptance of underage drinking.

"Anything that promotes the perception that alcohol use is acceptable with young people is really disturbing," said Elizabeth Nelson, community health specialist at the Lake County Health Department. We need to give consistent messages that alcohol use is not allowed and that it's illegal at their age."

Youth are increasingly choosing harder liquor, such as rum and tequila, over beer and wine to facilitate getting drunk quicker, Nelson said.

Girls, in particular, are drinking more and at younger ages, said Janet Williams, co-chairman of the Illinois Coalition to Stop Underage Drinking, which fired off a letter this week to Claire 's, asking it to the stop the practice. "In many cases, the girls are outdrinking the boys, putting themselves at greater risks," she said.

In the 1960s, about 7 percent of 10- to 14-year-old girls used alcohol; by the early 1900s, about 31 percent did so, a federal study found.

In 2007, Claire's gave in to protests over its sales of flasks carrying the phrase "Class of 2007," removing that design from shelves, while maintaining the item was intended for college seniors. A representaive last week said he was not aware of any concerns about the products in the stores.

Most flask styles hold 5 ounces and cost about $12.50. A one-shot keychain style carries initials, holds about 1 ounce and costs about $8.50.

Labels on some of the flasks stress that they are designed to carry alcoholic drinks and should not be used for fruit juices or other beverages with acidic content. Each carries a disclaimer that the product is not intended for minors.

The Florida-based Claire's, which operates about 3,000 stores in the U.S. and Europe and which has its buying and distribution offices in Hoffman Estates, is not the only retailer to come under fire recently for peddling flasks. Parent groups have protested the sales of flip-flops that have flasks built into their heels. In 2007, Nordstrom agreed to stop selling the shoes after receiving complaints from a prevention and treatment group. The company has since discontinued manufacturing the product.
Source: www.suntimes.com/business/1393120,CST-FIN-flasks23.article#

Oregon Partnership Tells Claire's: Response To Flask Flap Comes Up Woefully Short

---
Responding to calls to stop selling alcohol flasks in its stores catering to teen customers, Icing by Claire's says it will continue selling the flasks at its 3,000 stores. But according to a company spokesman, the store will post signs at store counters supporting "responsible" alcohol consumption.

The multi-colored flasks with a myriad of designs are predominantly displayed at Icing by Claire's stores, which according to the company website, focus on a customer base that includes teenage girls.

Earlier this month, Oregon Partnership, a non-profit group dedicated to combating underage drinking and drug abuse, had written CEO Eugene S. Kahn of Claire's Stores, Inc., to discontinue flask sales. Other advocacy groups around the country have expressed their displeasure as well.

"Deciding to continue selling the flasks, complete with chains, charms, and colors, sends a bevy of messages – none of them good or responsible - to teenage girls," says Pete Schulberg, Communications Director of Oregon Partnership. "In Oregon and around the country, teen girls are drinking more and drinking younger."

Icing by Claire's is a costume jewelry and accessory store targeting young women. It is a subsidiary of the tween accessory chain store Claire's.

The flasks hold five ounces and cost $12.50. Some of the designs include leopard skin, a peace symbol, and the Empire State Building.

"When it comes to preventing underage drinking, parents are the biggest influence on their kids," says Schulberg. "But we don't understand why a major retailer such as Claire's would want to spread the perception among young girls that drinking is fun and cool."

Last year, responding to Oregon Partnership's request, Nordstrom agreed to stop the sale of flip-flops with built-in flasks.

After complaints by Oregon Partnership, Macy's and Bloomingdales decided to take beer t-shirts off their shelves, which received substantial positive attention in the national media. Other national chains have discontinued the sale of drinking games and other similar products.

Oregon Partnership and other anti-drug coalitions are making real inroads in informing parents, educators, and the business community about how alcohol use among adolescents is even more dangerous to their developing brains than previously believed.
Source: www.jointogether.org/news/yourturn/announcements/2009/oregon-partnership-tells.html

* * *

---
| | | |
| --- | --- | --- |
| | | |
Contact Us | Disclaimer | Privacy Statement
Menstuff® Directory
Menstuff® is a registered trademark of Gordon Clay
©1996-2019, Gordon Clay