Divorce can be Deadly

---
Menstuff® has compiled the following information on physical and emotional dangers of divorce for men. Editor's note: We realize this is only a press release and not the entire study. However, some interesting points to consider: (1) The risk factors are %. Research usually discounts the +5 to -5% range as being insignificant. (2) It is surprising that no other factors (if they were analyised) were risk factors like type of occupasion, previous health issues, eating out more, having more free time to enjoy riskier sports and life, etc. (3) It is also interesting that no recommendation is given to men who are divorce. Seems like this is the real at-risk group and re-marrying isn't necessarily the answer.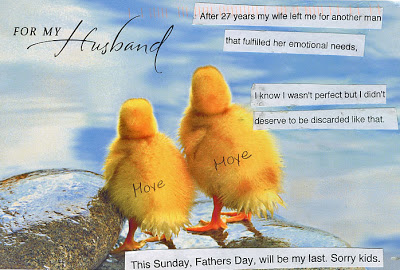 ----email to postsecret.com

-----

I cried when I read the secret. A few years ago, my Daddy went through a divorce. She hurt my dad very, very badly and I've never seen my dad so depressed in my life. I cried often thinking how miserable he was inside and how their was nothing I can do to fix it, besides continue to love him.

My dad started seeing a professional and took some medication. My dad is now a very happy man and has a wonderful girlfriend who lights up his life.

I am ecstatic that my dad is still with me today and pushed through his dark time. I cherish every moment with him and I know I have many, many more Father's Days with him. It's okay to have help...please - take care of yourself, Two Baby Chicks.

Work Stress and Divorce a Deadly Combo for Men

---
Chronic work stress and divorce can be a deadly combination for men, a new study has found.

Researchers from the University of Pittsburgh School of Medicine and the State University of New York-Oswego studied data from 12,366 patients who participated in the seven-year Multiple Risk Factor Intervention Trial.

The study was funded by the National Institutes of Health and will be published in the Feb. 11 issue of the Archives of Internal Medicine.

Of 10,904 men who were married at the beginning of the trial, the researchers found those who stayed married were less likely to die from a number of causes than those who divorced.

During a nine-year follow-up period starting at the end of the trial, some 1,505 of the men with work-related stress had died, including 771 patients from cardiovascular causes.

Of those who divorced during the trial, 1,332 died from various causes, including some 663 from cardiovascular causes.

Those most adversely affected in the trial were patients experiencing both work stress and divorce, the study found.

The researchers suggested "remaining married in midlife has protective effects in the face of adverse experiences at work." They recommended counseling to help overcome work and marital stress.
Source: dailynews.yahoo.com/h/nm/20020210/sc/health_stress_dc_1.html

* * *

---
Contact Us | Disclaimer | Privacy Statement
Menstuff® Directory
Menstuff® is a registered trademark of Gordon Clay
©1996-2019, Gordon Clay