POWs
Menstuff® has compiled the following information on POWs.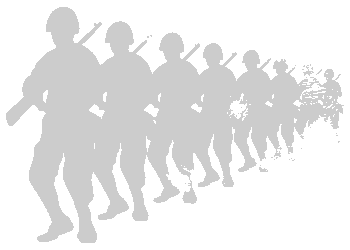 Remember POWs Everywhere!

POWs

- They Will Not Be Forgotten. Do your part to remember.
* * *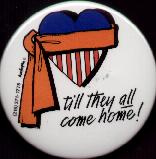 "When one member of the American Armed Forces is not worth the effort to be found, then we as Americans have lost our national honor."
First Vietnam War Medal of Honor to Prisoner of War
Military Casualties
People Who Have Served our Nation
Related Issue: War, Land Mines

First Vietnam War Medal of Honor to Prisoner of War

---
Rocky Versace was a Vietnam prisoner of war who, under conditions of torture, still defied his captors: as a result of his resistance, the Viet Cong executed him on September 26, 1965. Versace becomes the first Army POW to be awarded the Medal of Honor for actions taken under captivity during the Vietnam War.
Source: The CNN Story, www.cnn.com/2002/US/07/08/bush.medalofhonor.ap/index.html

---
All POW/MIAs are now noted as PFOD except Gulf War Michael Speicher

World War I: 116,708 KIA, 204,002 wounded, 3,350 POW/MIA [pfod]

407, 316 KIA670,846 wounded78,777 POW/MIA [pfod]

54,246 KIA153, 303 wounded7,190 POWs [4,428 repatriated); 8177 MIAs [pfod]

58151+ KIA303, 678 wounded2,459 POW/MIAs [pfod]

8 KIA

265 KIA

19 KIA

23 KIA

382 KIA467 wounded37 KIA/BNR or non battle BNR1 MIA OUTSIDE Combat theater: 1,947 KIA

42 KIA1 KIA/BNR

4 KIA

10 KIA 199319 KIA 19946 KIA 199520 KIA 19963 KIA 19982 KIA 1 KIA/BNR 2001 post 9/1183 KIA 200213 KIA 2003 (as of 03/18/03) (Does not include losses from air crashes WITHIN U.S.) DOES include Philippines (10 - some KIA/BNR), Afghanistan, Med Sea., Puerto Rico. 6 KIA (as of 03/22/2003) - Gulf War II

Pentagon: 125 KIA, 118 remains recovered

Source: http://www.pownetwork.org/statistics.htm


"I was prepared to fight, to be wounded, to be captured, and even prepared to die, but I was not prepared to be abandoned."
Eugene "Red" McDaniel, former POW
There are currently 3,350 MIA's from World War I, 78,773 from World War II, 8,177 from Korea, 2,458 from Viet Nam and 24 from Desert Storm.

---
Contact Us | Disclaimer | Privacy Statement
Menstuff® Directory
Menstuff® is a registered trademark of Gordon Clay
©1996-2019, Gordon Clay