Sex Sells

---
Menstuff® has information on Sex Sells.
Season's Greetings



1:04


Sex, aging and photoshopping
10 Eye-Popping Ad Campaigns
Women who flashed their undies on the red carpet

---
Sex sells. It's the oldest truism of marketing -- Wikipedia's entry on sex in advertising mentions woodcuts -- but is it true? The answer is an unequivocal ... sometimes. It's hard to know whether a risqué image will have customers recoiling or grinning. I've covered naked marketing for years, and I've done my share of both. Of all the publicity skin I've seen, 10 campaigns stand out. The best are so likable and clever that they can make even a reserved feminist (like myself) laugh. But the worst are demeaning enough to make even the goofiest frat boy cringe.

If you sense that you're seeing more nudity in advertising than you used to, you're right. But these days, we're hitting replay not just on our TiVos but on YouTube; some of these campaigns only exist online. But their merits haven't changed. For these ads to work, they must connect nudity with a brand. Does a consumer feel naked without the product or service? (Or with it?) More importantly: does the ad sell its product or cause to consumers? It's not always easy to know if customers like your advertising; sales figures, however, are not in the eye of the beholder.

To reveal the top 10 naked ad campaigns -- the good, the bad, and the ugly.


Fur Sure

1. PETA, Alicia Silverstone and Eva Mendes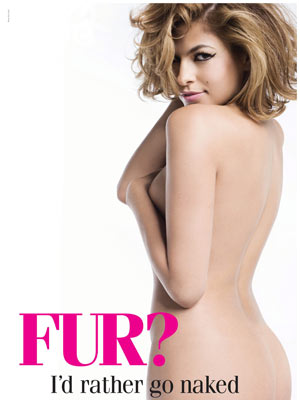 While I agree heartily with many PETA causes, I have no moral objection to eating meat or wearing fur -- although I do believe animals that we're going to eat or wear should be handled sustainably. So while I don't agree with all of PETA's arguments, I feel it has created the most successful naked campaign in recent memory: a non-exploitative use of celebrities who get us talking about the political ideas underneath the surfaces. I can't even decide on my favorite execution: Alicia Silverstone's gorgeous swimming-pool spot for vegetarianism delivered the message that she's never had so much energy since giving up meat -- "My skin was glowing," she says in the spot. (So let's show it all!) But it's hard to overlook the notorious Eva Mendes "I'd rather go naked than wear fur" campaign. They're both great -- deciding on the better of the two is the more winning campaign is clearly a matter of personal taste.
Chic Streak
2. Nike, 'Bear Butte' Running Camp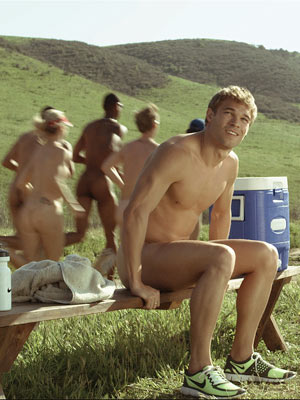 Nike's "Bear Butte" Running Camp spot from this spring, promoting the new Nike Free 5.0 running shoe, features world-class runners training naked to suggest that the shoe gives the sensation of running barefoot. Ironically, the only thing these runners are wearing is Nike sneakers. The commercial does indeed show the bare butts of U.S. champion runners' and toned extras ("I let it all hang out," one says), but pokes fun at Nike employees, not the runners. There are no sexual overtones here, and the video delicately toes the line between funny and scandalous. Ad execs, marketing experts, and runners all loved it -- and so did I: by the end of the video, I wanted to buy a pair of Nike Free 5.0s.
Raw Kiwis
3. Air New Zealand, body paint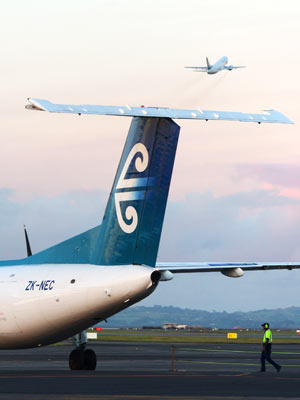 When Air New Zealand's agency created its amusing new campaign, airline staffers, including CEO Rob Fyfe, eagerly stripped down for the cameras -- guaranteeing that the entire world would watch these sweet (and only a tiny bit sexy) commercials. With "fares that have nothing to hide," the airline makes bare skin integral to its message and extends its brand awareness in a crowded marketplace. (Fyfe, for his part, has hit the PR trail, demanding that rival airline CEOs follow, um, suit.) This is naked marketing that works, using tried-and-true strategies of showing skin, or hiding it, by artfully placing a stack of cups in front of an attendants' breasts and a suitcase in front of a baggage handler's very precious cargo. As two bodypainted pilots saunter past, a grandmotherly passenger in the boarding area smirks, "I do love a man in uniform."
Midnight Cowboy
4. Chevrolet, the Naked Cowboy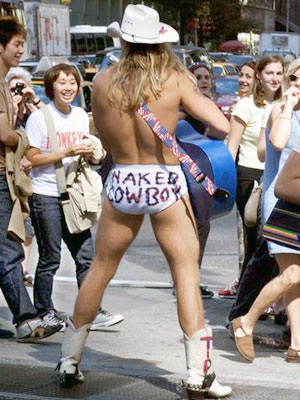 Times Square's beloved Naked Cowboy was definitely the best part of Chevy's 2007 HHR spot, which broke during Super Bowl XLI. Sadly, his appearance was far too brief (so to speak). The spot showed an HHR, Chevy's compact wagon, filled with youngish women driving into the heart of Midtown Manhattan's tourist trap; to the sounds of "It's getting hot in here," shirtless men bum-rush the car to perform a Paris Hilton–style carwash. The message: "Guys can't keep their hands off it." Sadly for Chevrolet, guys could keep their hands off the HHR, a brand whose low brand recognition wasn't helped by this spot (the winner of a college ad-writing competition). The nakedness here was part cute, part creepy (with an older guy in nothing but briefs -- and a tie), and had precisely nothing to do with the brand, a retro-styled nod to the old Chevy Suburban. Consumers did not seem moved.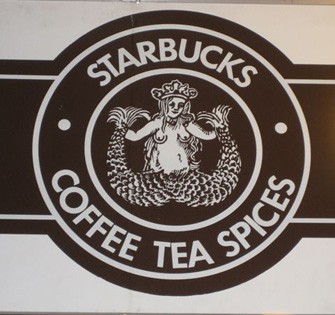 Coffee Splash
5. Starbucks, the original mermaid logo
The first logo for Starbucks, the once-tiny coffee chain named for a character from Moby Dick, featured a lusty mermaid displaying a forked tail and naked breasts. This was 1971, after all. But as Starbucks became more corporate, its logo became less nude. So it came as a bit of a shock (to some) last year when the company reintroduced its original logo -- and immediately provoked a boycott by a Christian group. But that logo, based on a 16th-century Norse image, was defended by CEO Howard Schultz as "Rubenesque" and "seductive" -- and the image did indeed evoke an ancient, literary association. I loved it. But the logo's revival seemed more haphazard stunt than longterm strategy. And as with many of its decisions last year, Starbucks's new-old mermaid brand proved neither sexy nor effective. (More on the Starbucks logo.)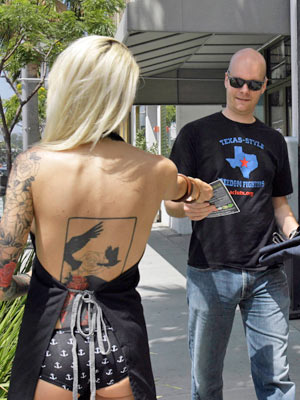 6. Show Us Your Soaps!
Lush, employees' aprons-only attire
The Lush cosmetics retail chain loves to crow about its "naked" packaging (essentially, no packaging) for soap and shampoo bars. To attract buzz for their ecofriendliness, the company has staged several naked days, when employees are encouraged -- not forced, mind you -- to come to work in nothing but their aprons. Employees at Lush's store in Manhattan's Herald Square "paraded around on the sidewalk" in their aprons, to much crowd appreciation (and not a little heckling). While this marketing stunt meets the standard of having a clear connection to the product being marketed, and it's not terribly in-your-face, it's obvious that the female employees are getting most of the ogling, and that it's a little exploitative. Will this apron-wearing encourage shoppers to buy more "naked" soap? Beyond bolstering a green image, I doubt this campaign amounts to much.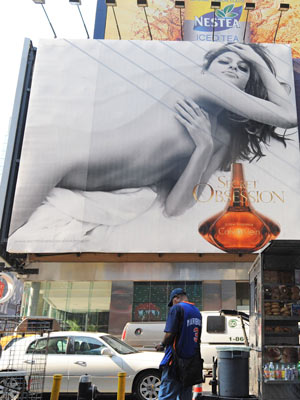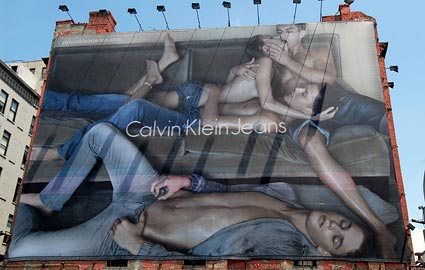 Sex and the Single Strategy
7. Calvin Klein, Obsession billboards
I was a teen in the late '80s, which explains my scent memory for any black-and-white image of bare skin. Long before unveiling this month's startling threesome -- or is it foursome? -- above a Manhattan intersection (see Jeff Bercovici's "Why Calvin Klein hopes you hate its new billboard"), the bad-boy designer was notorious for stylish, salacious outdoor and magazine campaigns for Obsession cologne. That the images are of women (clearly depicted in the throes of passion for Obsession-scented men) reveals a target largely comprising young single men. When the first Obsession ads first appeared, they stoked a heated dialogue about American prudishness; the barriers came crashing down about 10 years ago, and as Eva Mendes went bare last fall (her second appearance in in this Naked Marketing gallery), we still wonder whether the tactic is useful or acceptable. It must be, given Calvin Klein's using the strategy for decades to sell scents, jeans, and underwear. But its appeal is objectifying and humorless. It's about sex, and nothing else.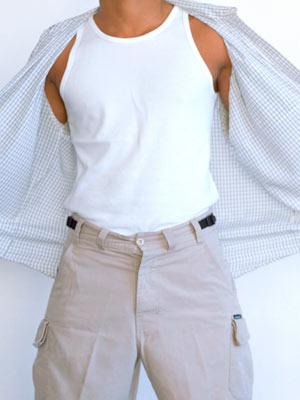 Dress Rehearsal
8. JCPenney, rogue ad campaign
JCPenney has always been known for its family-friendly image. So it came as a shock to marketing analysts and angry parents last year when the retailer broke a hot-and-heavy campaign, depicting two teens rehearsing to hustle into their clothes so they won't get caught screwing in the basement by a peeping Mom. Even the media pitbulls at Gawker gaped: "It's official now: teen sex is okay with middle America." But the award-winning spot was soon revealed to be the work of a producer at ad agency Saatchi & Saatchi's production company; both Penney and Saatchi disavowed the spot, even after it won the top award at the Cannes Lions International Advertising Festival. The ad industry might have loved it, but the ad was clearly inappropriate to Penney's image, and the producer linked to the commercial left his production company after the brouhaha.
9. Burger King's Flame body spray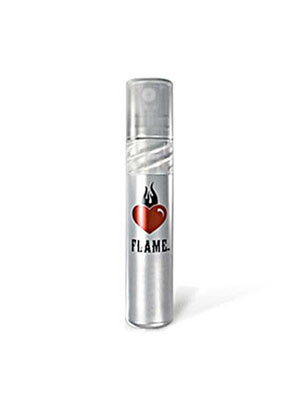 A Real Whopper
As with most of Burger King's advertising by irreverent agency Crispin Porter & Bogusky, this execution leaves me wondering whether I'm watching satire. The campaign's disturbing mascot is hard enough to stomach without his shilling for Burger King's Flame body spray. That's right: the fast-food giant introduced a cologne, promoted by online ads that show a nude, louche Burger King in full fast-food regalia, beckoning the viewer into a bubble bath. (Um, ew.) The campaign promises a "body spray of seduction, with a hint of flame-broiled meat"; a sniffing panel at Serious Eats decided the spray didn't smell seductive, much less did it smell like burgers. What was the point of it all? Does Burger King really see a viable strategy in cornering the smart-ass segment of the fast-food audience? (More on Flame body spray.) Flame Web (Keep curser near middle bottom. Product comes up. Click on product. See new image. Move curcer into the image and hear a Barry White type voice say something. Then return to the bottom center of the page, products arises and click on it again for additional images. Continue this process as long as you can stand it. Product, image, voice (sometimes), product, image, voice (sometimes), etc. The whipped cream is a little much.).

10. Burton Snowboards, Love line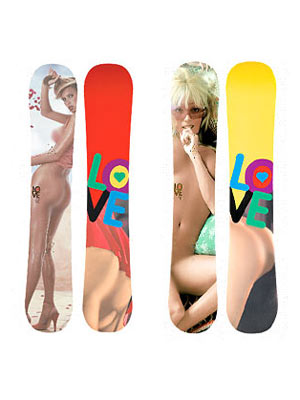 Heading Downhill
Why use nudity in your marketing when you can use it in your actual products? That must have been the insight of a young product-development specialist at Burton Snowboards, marketing a line of boards featuring photos of naked women. These boards really go all the way -- to soft-porn, in fact. Burton's decision was clearly offensive and exploitative. "When you really think about it, it's a young man standing on top of a naked woman's body," noted one woman from Burlington, Vermont, Burton's hometown. "I probably could have gotten past it, because I try to have an open mind, but seeing it like that, it's offensive." Despite the outcry and several protests, Burton's "Love" line is selling out, and the company plans to continue producing it. (The Sexy snowboard controversy.) One, Two, Three, Four.


Source: www.walletpop.com/specials/risque-business?icid=main|htmlws-main|dl3|link3|http%3A%2F%2Fwww.walletpop.com%2Fspecials%2Frisque-business%0D%0A

Women who flashed their undies on the red carpet

---
Scroll down to photo galarey
Source: www.aol.com/article/2016/02/17/gigi-hadid-flashes-underwear-in-black-jumpsuit/21314054/?icid=maing-grid7%7Cmain5%7Cdl12%7Csec1_lnk2%26pLid%3D-1004857582

* * *

---
Contact Us | Disclaimer | Privacy Statement
Menstuff® Directory
Menstuff® is a registered trademark of Gordon Clay
©1996-2019, Gordon Clay