Teen Drinking Prevention

---
Menstuff® has information on prevention of teen drinking. Want a referral to substance abuse treatment 24/7/365 call 1-800-662-HELP. It's run by the Substance Abuse and Mental Health Services Administration.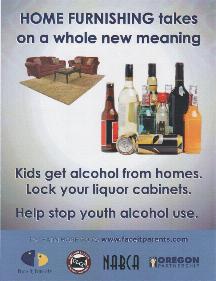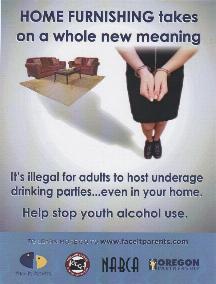 Alcohol prevention ads from the Oregon Liquor Control Commission plus a bottle hanger that can be placed on bottles of alcohol that teens often use like Jagermeister to make Jager Bombs. Parents can peel a seal off the bottle hanger to put directly on the bottle which reads "_______________ (insert child's name) At your age drinking is dangerous. So are really angry parents.". Learn more at www.faceitparents.com
Click on for enlargement.

Using a Developmentally Sensitive Approach to Prevent Teen Drinking
Drinking and Alcoholism

– Read about why people drink and how badly it can affect them.
Effects of Alcohol

– Learn about short- and long-term effects of drinking alcohol, plus symptoms of addiction.
The Dangers of Alcohol

– See how alcohol can negatively affect people's lives.
An Introduction to Alcohol

– This explanation discusses what alcohol is made from and how it affects our bodies.
Why People Drink

– Find out some common excuses that people use when they drink too much alcohol.
Alcohol and Our Brains

– Take a look at how alcohol is processed by our bodies and how it impacts the brain.
Peer Pressure

– Get some useful advice on how to respond when other kids pressure you to drink or do drugs.
Alcohol Questions from Kids

– Read some kid-submitted questions about parents or other people who drink too much.
Getting Drunk - watch out for celll phones.
12 Steps for Kids

– These 12 steps are often used by alcoholics to help them quit drinking.

Using a Developmentally Sensitive Approach to Prevent Teen Drinking
---
Why is alcohol so appealing to young people? Research shows that a variety of social, cultural, and biological factors influence an adolescent´s decision to drink, and that drinking is linked to adolescent development. That´s why experts say the most effective strategies and interventions to prevent teen drinking are those that are designed based on the adolescent´s developmental process.

Understanding and addressing alcohol use within a developmental framework was one of the goals outlined in the Surgeon General's Call to Action to Prevent and Reduce Underage Drinking released last March. Experts from the National Institute on Alcohol Abuse and Alcoholism (NIAAA) will explain what that means for community coalitions and prevention specialists at CADCA's National Leadership Forum XVIII next week.

"If you're going to work in the community on underage drinking, it's important to understand the phenomenon of underage drinking and see how it fits into growing up in the United States. So that perhaps you can do a better job of intervening and approach it in a way that's consistent with a person's development," explained Dr. Vivian Fader, Deputy Director of the NIAAA's Division of Epidemiology and Prevention Research, and one of the presenters at CADCA's Forum.

Dr. Faden and Ralph Hingson, Sc.D., Director of the NIAAA's Division of Epidemiology and Prevention Research, will lead a workshop entitled "The Alcohol-Adolescent Connection: What We Know About It and What We Can Do About It." During the workshop, they will discuss the unique processes that take place during adolescence and how community coalitions can apply a developmentally sensitive approach to their underage drinking prevention and intervention efforts.

Dr. Faden said adolescence is a time of dramatic changes—both biological and social. That, combined with the many social transitions teens go through, such as transitioning from elementary to middle school to high school, can increase social pressures, stresses, and expectations that contribute to underage drinking.

"We need to consider development when we design interventions and we can't have a one size fits all approach for youth of all ages," she noted. "You can't use the same approach for a 10 year old that you would use on a 19 year old."

The Forum workshop will not only explore strategies and interventions that coalitions can use, but also how the NIAAA developed this approach. Topics will include human development, epidemiology, and the physiological effects of alcohol.

In addition to this important workshop, the Acting Surgeon General Rear Admiral Steven K. Galson, M.D., M.P.H., will provide a keynote speech at the Forum on February 14 to discuss the Surgeon General's Call to Action to Prevent and Reduce Underage Drinking. CADCA's National Leadership Forum XVIII will be held February 11-14, 2008 at the Walter E. Washington Convention Center in Washington, D.C. Click here for more information.
Source: cadca.org/CoalitionsOnline/article.asp?id=1765

* * *

---
Contact Us | Disclaimer | Privacy Statement
Menstuff® Directory
Menstuff® is a registered trademark of Gordon Clay
©1996-2019, Gordon Clay