Violent Women

---
Menstuff® has compiled the following information on Violent Women.



Crazy Womens MMA Knock Outs 7:28
The number of women in jail is reportedly skyrocketing — and no one knows why
Pa. woman admits Craigslist killing in interview
He's Dead, She's Free. What's Up With That?
Susan Smith Seeks New Trial in Sons' Killings
Bad Girls
Women's Violence

Pa. woman admits Craigslist killing in interview

---
Accused Craigslist Killer Says She Murdered 22 More

A Pennsylvania woman charged along with her newlywed husband in the murder of a man they met through Craigslist admitted to the slaying in a jailhouse interview with a newspaper and said she has killed more than 20 others across the country, claims police said they are investigating.

In an interview with the Daily Item in Sunbury, Pa., 19-year-old Miranda Barbour said she wants to plead guilty to killing Troy LaFerrara in November. She also said in the interview that she has killed at least 22 other people from Alaska to North Carolina in the last six years as part of her involvement in a satanic cult.

"I feel it is time to get all of this out. I don't care if people believe me. I just want to get it out," Barbour told the newspaper for a story published Saturday night (http://bit.ly/1f7fvOH).

Sunbury police Chief Steve Mazzeo told the newspaper that investigators have been in contact with the FBI and law enforcement in several other states.

"From information we gathered and from information gathered from her interview we are seriously concerned and have been in contact with the proper authorities," Mazzeo said.

Lawyers for the couple did not immediately return messages from The Associated Press left at their offices Saturday night. An FBI spokesman referred questions to its Philly office, but an email message wasn't immediately returned.

Prosecutors are seeking the death penalty against Barbour and her husband, 22-year-old Elytte Barbour. Authorities said Miranda Barbour, a petite woman with long brown hair, told investigators she met the 6-foot-2, 278-pound victim after he responded to her Craigslist ad offering companionship for money.

Police allege in court papers that Elytte Barbour told investigators they committed the crime because they wanted to kill someone together. The couple, who were married in North Carolina and moved to Pennsylvania about three weeks before the crime, told police Miranda Barbour stabbed LaFerrara in the front seat of her car while her husband held a cord around his neck.

She said in the interview that she doesn't want to get out of jail and that she would kill again if she were released.

Miranda Barbour offered little detail on the murders she claimed to have participated in in Alaska, Texas, North Carolina and California. She claims she joined a satanic cult in Alaska when she was 13 before moving to North Carolina. Online records for the woman that the newspaper identified as Barbour's mother show her as having lived in both Alaska and North Carolina.

Last week, a judge granted a lawyer's request to have a forensic psychiatrist evaluate Miranda Barbour. The judge earlier approved a psychiatrist to evaluate Elytte Barbour.
Source: www.aol.com/article/2014/02/16/pa-woman-admits-craigslist-killing-in-interview/20831291/?icid=maing-grid7%7Chtmlws-main-bb%7Cdl7%7Csec1_lnk2%26pLid%3D443427

He's Dead, She's Free. What's Up With That?

---
Experts discuss the case of Mary Winkler, who claimed that posttraumatic stress disorder led her to kill her pastor husband.

Mary Winkler is a free woman—free of her abusive marriage and free of jail. After 67 days in a mental-health facility in Tennessee, Winkler was released earlier this week and has returned to her hometown of McMinnville. But is she free of the posttraumatic stress disorder and depression that her legal team said drove her to gun down her preacher-husband, Matthew, last year? After a jury found Winkler guilty of voluntary manslaughter, she was given a three-year sentence, later reduced to 210 days, but she also got credit for the five months she spent in jail awaiting trial—which left only about 60 days, which a judge ruled she could serve in the mental-health facility. Winkler's critics wonder if she ever had PTSD in the first place and say the diagnosis was just a means of getting off easy. Newsweek's Mary Carmichael consulted experts on trauma to answer common questions about the case.

How likely is it that Winkler had PTSD?

It's very likely that she had some form of anxiety disorder brought on, at least in part, by abuse. Forensic psychologists testified at the trial that Winkler had developed PTSD as a teen after her younger sister died. That's certainly possible. The most common cause of PTSD, which afflicts 9 percent of Americans at some point in their lives, is hearing about the unexpected death of a loved one, says Joan Anzia, a clinical psychiatrist at Northwestern Memorial Hospital in Chicago. Trauma in early childhood, she adds, can predispose people to developing PTSD later in life.

"It doesn't have to come from being in a war zone or a terrorist attack," says David Baron, chair of the department of behavioral sciences and psychiatry at Temple University. "It's about being confronted with an event where there was a threat of death or serious injury. You can see it with physical and sexual assault." Some sufferers of PTSD experience "dissociation," which Lynne Zager, a forensic psychologist for Winkler's defense, characterized as "[stepping] outside themselves ... sort of like being in a fog." Zager said Winkler had experienced those episodes and was in the midst of one when she shot her husband; Winkler herself told police she did not remember pulling the trigger. Dissociation, which does not appear in all PTSD cases, is "one of the strangest phenomena associated with the disorder," says Frank Ochberg, a clinical professor of psychiatry at Michigan State University. "The idea is that at some point without having full appreciation of what she was doing, she could have moved into an altered state of consciousness, like a trance, like a sleepwalker. It's not well understood and it's hotly debated. Cops hate to believe it. Prosecutors hate to believe it. A lot of people don't like to think that it belongs in a court of law, but it does if it's the best explanation that fits all the facts." Ochberg is willing to consider the possibility that Winkler was in a dissociative state when she killed Matthew. "It sometimes feels like it's a free pass," he says, "but it does seem realistic to me that if it's true that she was terribly abused, and I mean terribly, she could have had diminished rationality in committing murder."

Baron, however, is circumspect about Winkler's diagnosis. "Having PTSD result in violent, aggressive behaviors is not a common phenomenon," he notes. "Typically the behaviors tend to be more avoidant—patients might stop doing things they used to do, or become detached or estranged from others. If a patient is getting something out of having the symptoms, one needs to at least consider whether the symptoms are real."

What kind of treatments might Winkler have undergone for PTSD?

Typical treatments sometimes include antidepressants and anti-anxiety drugs, and almost always include some form of talk therapy—most likely "cognitive behavioral therapy," which is designed to help patients reprocess their experiences in a rational way. Some psychiatrists believe that to truly heal, PTSD patients should "re-integrate" their dissociative experiences with their other memories—in essence, that they should try to relive what they can't remember and put it in the context of the rest of their lives. "You want to retrain their brain to realize that not everything in their lives is a danger signal," says Anzia. "Part of that involves remembering and reprocessing the trauma in a rational way." Ochberg says the key is getting patients to gain control over a form of memory that "wakes us up in the middle of the night, changes the channel on us and scares the bejesus out of us. Therapy should consist in part of dredging up that traumatic memory and learning how to turn it on and turn it off."

But the "re-integration" treatment isn't always helpful, adds Anzia. "The question is, does it really do them any good? Sometimes the patient is just totally overwhelmed with their present-day life," she says. "In those cases, we would not go back there. Sometimes it's the best choice not to help the patient remember."

Winkler's case presents an added wrinkle: she may have been traumatized not only by years of abuse but by the killing she committed and the guilt she may have felt over it. "Most people with PTSD are not violent," says J. David Kinzie, a psychiatrist and director of the Torture Treatment Center at Oregon Health and Science University. "So I assume there is something extra added to this, probably some guilt that would have to be dealt with."

Ochberg offers another take: "It could well be for her it was the treatment as much as the elimination of her husband that changed her life and allowed her to feel normal."

PTSD is a serious illness; can it really be "cured" in 67 days? And even if Winkler is better now, couldn't her PTSD come back?

Winkler's treatment was certainly shorter than the norm. "I'm not saying it's absolutely impossible that her PTSD was resolved, but usually the treatment lasts a bit longer," says Baron. Typically, patients may endure dozens of therapy sessions—one study found that the sickest needed up to 120 separate hourlong meetings with counselors—before they're ready to make peace with their past. Nonetheless, short-term treatment can reduce some symptoms of PTSD, particularly if the disorder involves nightmares, which can be averted with drugs. And Winkler, unlike most sufferers, was treated as an in-patient, so her therapy may have been more intense than the standard approach.

No matter how successful the treatment appears to have been, though, it may not last. "She may look normal now, but if she has an aggressive confrontation with a male in the future, all the symptoms could come back," says Kinzie. "These patients remain extremely vulnerable to re-activation." Anzia agrees. "You can be removed to a safe place and recover, but if you're presented with an event that's similar to the original trauma, that can trigger [the PTSD] again." Many World War II vets who managed their symptoms successfully for decades experienced "full-blown flashbacks of combat" after seeing "Saving Private Ryan," she notes.

If Winkler wants to keep her own disorder under control, she'll need to be careful. Kinzie says she should avoid watching TV. "It's so violent that it can bring back memories," he says. "Almost any abused woman cannot tolerate the kind of shouting matches that go on in these detective stories." But, he adds, "if she can maintain herself without aggression and irritability, she might even be able to get custody of her kids." That, in fact, is Winkler's next courtroom battle—and her next chance to prove she's well enough to return to society.
Source: Mary Carmichael, www.msnbc.msn.com/id/20322236/site/newsweek/?GT1=10252

Susan Smith Seeks New Trial in Sons' Killings
---
The South Carolina mother convicted in 1995 of killing her two sons by rolling her car into a lake is asking for a new trial, but a prosecutor said Saturday she faces a deadline problem.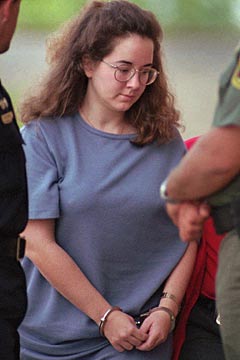 Susan Smith, here in 1995, is serving a life sentence for killing her 3-year-old and 14-month-old sons in 1994.Susan Smith, 38, filed a handwritten petition Jan. 19 in Union County for post-conviction relief, claiming her Miranda rights were violated because she was questioned without a lawyer present in interviews that led to her arrest, and that her defense attorney was inadequate and didn't allow her to plead guilty.
She does not currently have a lawyer, 16th Circuit Solicitor Kevin Brackett said Saturday.
The appeal comes a month after her petition in federal court for a new trial was dismissed, citing her need to first exhaust state remedies.
Smith is serving a life sentence at a maximum-security state prison near Greenwood following her July 1995 murder conviction.
She captured the national spotlight when her boys, 3-year-old Michael and 14-month-old Alex, disappeared Oct. 25, 1994.
She told deputies they had been taken by a black man in a carjacking at a red light, and she cried on national television as she begged for their safe return. Nine days later, she confessed to strapping them into their car seats and letting the car roll into a lake. The boys' bodies were found in the car, submerged a few feet from a boat ramp at John D. Long Lake in Union County.
In her petition, Smith writes that her history of being sexually abused should have been considered as her alibi.
At trial, Smith disclosed she was molested as a child by her stepfather.
The deadline for post-conviction relief is usually one year from an appeal, but since she never filed an appeal, it would be one year from the trial ending, Brackett said: "Her first hurdle would be explaining the delay."
He said the attorney general's office will assign a prosecutor to handle the case, and Smith may be appointed a lawyer, or it may be dismissed before it gets to court because of the missed deadline.
"Sometimes people file these motions because they don't have anything better to do," he said.
Smith is up for parole on Nov. 4, 2024.
Source: www.sphere.com/crime/article/susan-smith-seeks-new-trial-in-sons-killings/19330123?icid=main|htmlws-main-n|dl1|link3|http%3A%2F%2Fwww.sphere.com%2Fcrime%2Farticle%2Fsusan-smith-seeks-new-trial-in-sons-killings%2F19330123

* * *

---
Contact Us | Disclaimer | Privacy Statement
Menstuff® Directory
Menstuff® is a registered trademark of Gordon Clay
©1996-2019, Gordon Clay