Rubber Wrist Bands

---
Menstuff® has various wrist bands for sale. Non-glow are $1.00, glow are $1.25.
Get a Grip!
Supporting our annual campaign to increase awareness of testicular cancer. Boys/Men from puberty to 35 should do a self-exam of their testicals at least monthly. See our Shower Card for instructions and sign-up for a free monthly reminder via email to Get a Grip. The top band is no-glow, the bottom one glows in the back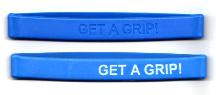 Click on image to enlarge.
Living a Drug Free Life
We have three different versions of this band. The top two glow in the dark. In one, the letters are carved into the rubber and don't shout out where you stand and in the middle one, they are printed and make a statement. One of the things the glow bands can represent is allies at a party that also plan to be drug free. You can let it be known or keep it among friends. But, if you are at a party and getting too much pressure to do drugs or alcohol, look for a band glowing in the dark and you know you have an ally at the party that can support you in not doing drugs or alcohol.
The red band has the words carved into the rubber and doesn't glow..
How to Order

---
We cannot accept orders over the Internet. Send a check or postal money order for the complete amount made out to: Gordon Clay, PO Box 12-W, Brookings, OR 97415-0024. Ask about quantity discounts for 50 or more.

* * *

---
Contact Us | Disclaimer | Privacy Statement
Menstuff® Directory
Menstuff® is a registered trademark of Gordon Clay
©1996-2019, Gordon Clay