Poison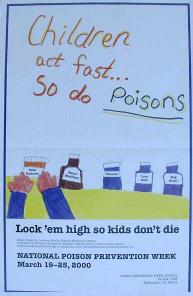 Children Act Fast...So Do Poisons!
Poison Control Center
Nationwide 24 hour crisis line - 800.222.1222
Or check at www.aapcc.org/findyour.htm
Or check Front of Yellow Pages for Poison Control Numbers
Or call 911
---
American Academy of Pediatrics - Poison prevention tips and other health and safety information for infants, children, adolescents and young adults. www.aap.org/family/poisonwk.htm
American Association of Poison Control Centers - Poison prevention (www.aapcc.org or 202.362.7217) and local poison control center information. A 24/7 poison hotline (800.222.1222) provides nationwide access to free, confidential poison emergency advice. All calls to the hotline are connected to nurses, pharmacists, and doctors at the closest poison center. www.aapcc.org/findyour.htm or www.1-800-222-1222.info
American Council for Drug Education, regarding inhalants - 800.488.DRUG www.acde.org
APhA Academy of Students of Pharmacy, University of Michigan - Poison prevention information for parents and kids. For Kids section is very colorful and includes interactive materials. OHCINFO@cdc.gov or www.ipl.org/youth/poisonsafe/index.html
California Poison Control, www.calpoison.org or their 24-hour crisis line at 800-222-1222
CDC Childhood Lead Poisoning Prevention Program www.cdc.gov/nceh./programs/lead/about/about.htm
CDC Information on Lead Poisoning in Children for Parents www.cdc.gov/nceh/programs/lead/faq/cdc97a.htm
Consumer Product Safety Commission - Important consumer product safety information. Notify about products, cribs, children's toys that are dangerous or easily broken. 800.638.CPSC or www.cpsc.gov/cpscpub/pubs/pois_prv.html
Eden Children and Family Services, inhalants - 612.338.2158
Food and Drug Administration - Information on food, medication, and other consumer products. www.fda.gov
National Clearinghouse for Alcohol and Drug Information, inhalants - 800.729.6686 www.health.org
National Drug and Alcohol Treatment Referral Routing Service, inhalants - 800.662.HELP
National Inhalant Prevention Coalition, inhalants - 800.269.4237 www.inhalants.org
National Lead Information Center - Environmental lead poisoning and prevention information. www.nsc.org/ehc/lead.htm
U.S. Consumer Product Safety Commission, inhalants - www.cpsc.gov
For information on National Poison Prevention Week and poison prevention information materials and resources, contact:: Ken Giles, Poison Prevention Week Council, Secretary, Poison Prevention Week Council, P.O. Box 1543, Consumer Product Safety Commission, Washington, DC 20013, kgiles@cdsc.gov or (301) 504-0580, x1184

Inhalant Info: Don't wait - if you or someone you know needs help, talk to parents, teachers, or a doctor. The following organizations offer counseling referrals, free brochures and more:
American Association of Poison Control Centers - A 24/7 poison hotline 800.222.1222. Also, www.aapcc.org/findyour.htm or www.1-800-222-1222.info
American Council for Drug Education, 800.488.DRUG www.acde.org
Eden Children and Family Services, 612.338.2158
National Clearinghouse for Alcohol and Drug Information, 800.729.6686 www.health.org
National Drug and Alcohol Treatment Referral Routing Service, 800.662.HELP
National Inhalant Prevention Coalition, 800.269.4237 www.inhalants.org
U.S. Consumer Product Safety Commission, www.cpsc.gov

* * *
Of the 5 million poisonings that happen each year, 53% happen to children under 6.

---
| | | |
| --- | --- | --- |
| | | |
Contact Us | Disclaimer | Privacy Statement
Menstuff® Directory
Menstuff® is a registered trademark of Gordon Clay
©1996-2019, Gordon Clay