Susan Butcher
Dec 26, 1954 - Aug 5, 2006
Honorary musher of 2007 Iditarod is Susan Butcher: She succumbed to leukemia on August 5, 2006 at age 51, but she will always be remembered as a great and graceful champion who put together an unmatched five-year stretch of racing. She ran 18 times, won four of them including three in a row. Many of us will remember Susan as the Iditarod's most dominant musher, but she was also a mother, wife, family member and friend. She was an accomplished woman who lived her life to the fullest.

Four time winner of the Iditarod and the first woman to ever place in the top 10. She also won the 1992 and 1993 Copper Basin 300.
Remembering a Legend
Memorial
Related Issue: Iditarod Women, Women Racers Directory, Women in Racing, Women Racers, More Women in Racing, Race Schedules, Notable Women
Contact: www.susanbutcher.com or E-Mail or Video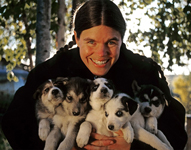 "Susan Butcher, Four Time Iditarod Trail Sled Dog Race Champion, Loving Daughter, Wife and Mother." There is no doubt that in the fifty one years Susan walked this Earth, she has created an indelible imprint on those she has touched. Such an imprint is hard to put into words. The following is an excerpt written by David Monson (Susan's Husband) in a journal he kept and posted for everyone trying to keep connected to Susan's valiant battle against Leukemia;
06-Aug-06 04:27 AM —
"Susan left us at 3:25 pm August 5, 2006. It was peaceful; the rest after her greatest race. We told her we would be OK. That she had made us strong enough to carry on. When she was sure that we were ready, she was gone."
"Tonight the girls and I took a ferry to Bainbridge Island. It was a peaceful passage from the turmoil of the city to a quiet spot she loved. Tekla wore her mother's necklace and Chisana wore her rings. We sat silently near the shore and looked up. The sky was an explosion of stars. I asked Chisana which one she thought was her mom. She sat on my lap and studied the sky for a long time finally she pointed and said 'I think that one. But don't worry she is not alone.' Neither are we. She will be guiding us from that star."
These words speak volumes about Susan, her passion for life, and her love for her family.
Source: www.iditarod.com/learn/susanbutcher.html
Susan Butcher
1986, 1987, & 1988 Winner of the Iditarod
There is only one woman who enters a race called the Iditarod, that takes her 1,161 miles across the Alaskan wilderness, enduring 100 m.p.h. winds, arctic blizzards, snow blindness, wild animals, thin ice, sleep deprivation, avalanches, and whatever else nature feels like throwing at a person up in the land of the midnight sun -- and wins three times in a row. That woman is Susan Butcher.
Susan Butcher grew up in the city of Boston. She hated city life, she thought it was unhealthy and crowded. She moved to the Wrangell Mountains of Alaska to pursue her first love - dog-sled racing and breeding huskies! She is an animal lover, a businesswoman, a wife and a mother. She is also the only person ever to win the 1,161 mile Iditarod three consecutive times.
She trains between twelve to sixteen hours a day, usually seven days a week. She trains herself through running, cycling, weight lifting program, and then for about nine months of the year she can actually use a sled. She mushes fifty to seventy miles a day.
"I have been known to walk in front of my team for 55 miles, with snow shoes, to lead them through snow storms, in non-racing situations, where I could have just as easily radioed for a plane to come and get me."
She went to Colorado State University, and became a veterinarian technician. She then took courses above and beyond technician work in the veterinary field. But she was not a student, mostly because of her dyslexia. She worked to become a vet for three years before deciding not to pursue it further.
Once when she was interviewed she was asked to describe one of her adventures while mushing.
"A less common danger, but nonetheless very serious, is the moose. The wolves are simply curious. They never cause us any problems. The bears, except for the polar bears, are in hibernation, and most of the polar bears are much further north than where we race. So the only danger for us really is the moose and the buffalo. But we only run through one herd of buffalo on the way to Nome. The moose generally run away from a dog team but occasionally they will somehow feel entrapped, and they feel they have to run toward you, and in essence, through the dog team. That has probably happened to me three or four times. No serious injuries to the dogs, none to me. Only minor injuries.
In 1985, I was traveling alone at night in the lead of the race and ran into an obviously crazed moose. She was starving to death. There was something wrong with her. She was just skin and bones. And rather than run away, she turned to charge the team. I thought she would just run through me. I stopped the team, threw the sled over. She had plenty of room to pass us along the trail. She came into the team and stopped. She just started stomping and kicking the dogs. She charged at me. for twenty minutes, I held her off with my ax and with my parka, waving it in her face. And finally, another musher came along and we shot her, but not before she had killed two of my dogs, and she injured thirteen others, leaving me to scratch from the race. She bruised my shoulder. We spent the next two weeks at a veterinary hospital, saving the lives of the injured dogs."
Susan and her husband Dave Monson have run in and won almost every major dog sled race worldwide. Additionally, Susan has even taken a team of dogs to the 20,230 foot summit of Mount McKinley! They have a little daughter named Marguerita.
Source: library.thinkquest.org/11313/Iditarod/susan.html
* * *

---
WomenInRacing.org | Contact Us
©1996-2019 by Gordon Clay