Road Atlanta Round 3

2005 Formula Drift Championship
Instructional: What is Drifting?
What is Drifting?
How is Drifting Done?
TV Partner
Tire Battle
Women Racers
Fan Demos
Packed Crowd Witnesses History At 'Mopar D1 All-Star Duel' - 9/5/06
NASCAR vs. Formula Drift - 9/1/06
The Fast and the Furious: Tokyo Drift - The movie
Grip Racing
2006 Schedule
Photo Gallery
Contact
Related Issue: Women Racers Directory, Women in Racing, Women Racers, More Women in Racing, Race Schedules, Notable Women, Champ Car

The Formula Drift Championship

---
Entering its third season, Formula Drift Championship, produced and owned by Irvine, Calif.-based Formula Drift, Inc., continues to expand into new markets as the first and only sanctioned and recognized North American professional drifting championship series (sanctioned by SCCA Pro Racing). This high-skilled, high-powered motor sport where drivers intentionally maneuver their cars into well executed, controlled sideways slides at high speeds through a marked course, has more than 30 professional drivers competing in all six competitions this year. A well established sport in Japan for more than a decade, Formula Drift, Inc. and its sister company Slipstream Global Marketing, Inc. had the vision and were instrumental in bringing the first official competition to the United States in 2003 at Irwindale Speedway. The unanticipated fan interest led to the rapid formation of the first ever, sanctioned and recognized drifting circuit, Formula Drift, which had its roots firmly grounded in Southern California, a hotbed for incoming Japanese-influence automotive trends. An important part of the program involves community outreach. Drivers and Formula D serve as the ambassador for the sport of drifting bringing exhibitions to traditional or mainstream motor sports events across the country which have included: Bridgestone Monterey Grand Prix/Champ Car Race, USAC, NASCAR Busch North & Featherlite Southwest and the SPEED World Challenge, among others.

In addition another 100-200 local team drivers will join in local markets to test their skills and techniques with the pros. Judged on execution and style, rather than who finishes the course in the fastest time, Drifting is a guaranteed crowd pleaser, and is often compared to the freestyle nature of skateboarding and motocross.

More Facts
Formula D has the largest number of tire manufactures involved that any other motorsport series in the world.
First drifting championship to be featured in a major video game with title sponsor EA Games
First drifting championships to be sponsored by non-endemic companies including EA Games and Circuit City
First drifting championship to have works teams (auto maker supported)
Instructional: What is Drifting?
Drifting is the not so simple art of controlling your car around a corner. It doesn't sound very hard does it, but it is. Drifting requires a highly skilled driver with a high powered car which will have enough rear wheel power to slide sideways through corners at high speeds. Some compare it to Rally Racing, but instead of getting to the finish line first the judges decide on execution and style who the winner will be. All drifting competitions take place on closed courses where pros maneuver their cars into spectacular powerslides around several corners. In order to successfully execute this type of driving, a driver must figure out the balance of the cars engine power, gears, brakes and steering to go beyond the normal limits of the suspension and tire traction.
This sport dates back approximately 10 years and started in Japan. Since then, the motorsport has evolved into the D1 Grand Prix Event Series where top competitors complete for the title of best drifter. Drifting has since then spread to Europe, Australia and now the USA with several amateur competitions being held throughout the year. If you want to race in the Pro Series, you'll have to go to Japan to do so.
Although drifting has been in the U.S. for the last few years mainly underground, it wasn't until Spring of 2003 that the sport came out into the mainstream. Since then, top professional drivers from Japan have come to Irwindale Speedway for the D1 Grand Prix All Star Invitational. They demonstrated their unique skills in front of thousands of fans.
Instead of a driver causing a drift into one corner and then countering to straighten out, he will instead over-steer his car so it will go into another drift around another corner. The best explanation of a good drifter is someone who has the ability to maneuver their car around a series of 4 to 5 corners without ever really having any traction.
Drifting can be initiated in two ways depending on whether you have a front or rear wheel drive car. The first method is to depress the clutch and gear down into second gear when approaching a corner or bend in the road and rev your engine to about 4000-5000 RPM. As you are coming up, slightly turn your steering wheel so the car is going away from the corner and then cut back towards it while at the same time releasing the clutch causing the rear wheels to spin. Basically you are doing a burnout. At this point you should feel a loss of traction in your tires giving your car a hydroplane effect as you begin sliding around the curve. Don't let the drift go because this will give you momentum to take on the next corner. Keep your foot on the accelerator as you control your car keeping it from spinning out as you approach the next turn. Now cut your steering wheel in the direction of the turn and your car will powerslide right through it. If you came out of your first drift too slow, just pop the clutch again to get your wheel's spinning.
The other method is to use your handbrake. If you have a front wheel drive car, this will be the only way you can accomplish the drift. As you approach a bend, pull-up on your hand brake until you feel your car lose tire traction. Normally you will only be able to drift through one corner this way as using the hand brake will cause you to slow down

As part of the 2005 series will be aired nationally on Comcast's cable channel G4TechTV, as part of a multi-year, national deal to bring viewers hour-long specials showcasing competitions and the culture of drifting.

---
Formula Drift has the most tire sponsors of any U.S. motorsport. As part of the series, tire manufacturers compete in the Formula D Tire Battle for points and bragging rights. Points are given to tire manufacturer sponsors in accordance with driver wins. Bragging rights allow manufacturers to use their Tire Battle title in all advertising and marketing outreach to the fans, something that is becoming increasingly competitive. Tire company sponsors include:
Bridgestone
Cooper
Dunlop
Falken
Kumho
Nitto
Toyo
Yokohama

---
There have been four women in the series. The first two are the only ones remaing at the current time: Kajikuma Hiromi, Yoshie Shunyama, Verena Mei, and Nadine Toyoda.
---
The following data was compiled via a random selection online survey available on the Formula Drift website. The survey was conducted from August 16 to October 1, 2004, with more than 700 surveys were received.
More than 80% of respondents are between the ages of 16-29 years.
Drifting is a predominantly male fan base; 88%.
60% of drifting fans are college graduates or have attended college.
More than 45% of drifting fans earn an annual salary in excess of $35,000.
Online use is hot among drifting fans; more than 47% spend between 8 and 30 hours online every week
Drifting fans love to game; nearly 90% of respondents own gaming systems
Local parts chain stores are not the primary resource for drift enthusiasts (less than 13%): more than 42% purchase parts online, with more than 41% buying from specialty/tuner shops direct.
Fans will be fans; of all the respondents less than 20% ever get behind the wheel to give drifting a try; more than 70% enjoy watching the sport.
No surprise, more than 85% of fans own their own car, and that they are predominately Japanese imports. The most popular brands include Nissan (29%), Toyota (16%) and Honda (15%).
(NOTE: Demographic information provided here is the property of Slipstream Global Marketing, Inc. and the Formula Drift Championship. Any reprinted use must be credited to Slipstream Global Marketing, Inc., and/or Formula Drift and must have expressed written approval from Slipstream Global Marketing, Inc.)

April 2 - Streets of Long Beach, CA
May 13 - Road Atlanta, GA
June 10 - Chicago Soldier Field, IL
July 8 - Infineon Raceway, N.CA
August 19 - Evergreen Speedway, WA
September 9 - Wall Speedway, NJ
October 14 - Irwindale Speedway, S.CA
Contact
Formula Drift, Inc
15285 Alton Parkway, Suite 100
Irvine, CA 92618
949.341.9181
Fax: 949.341.9182
www.formuladrift.com/home.php

, E-Mail
Fred Chang - Media, Event Marketing, Promotors, Car Show
949.341.9181 ext. 5 E-Mail


Fast and the Furious: Toyko Drift - The Movie

---
To avoid going to jail, Sean Boswell is sent to live with an estranged relative who's in the military and stationed in Tokyo, Japan. It is there that he discovers drift racing, a deadly combination of high speed, hairpin turns and switchbacks. As if illegal street racing is not dangerous enough, Sean inadvertently also takes on a driver with ties to the Yakuza, the Japanese crime organization. Due out June 16, 2006 Note: The motor vehicle action sequences depicted in this film are dangerous. All stunts were performed in controlled environments with professionally trained stunt crews on closed roads. No attempts should be made to duplicate any actoin, driving or can play scenes portrayed in the film. Editor: If you'd really like to go for it, contact the Formula Drift people regarding how to learn the skills and then race on a track in the Formula Drift series.
Source: www.thefastandthefurious3.com

NASCAR vs. Formula Drift - 9/1/06

---
Wait a minute... NASCAR drivers know how to turn right?

Automotive subcultures collided when California's Irwindale Speedway hosted the first-ever NASCAR vs. D1GP drift-off. Some of NASCAR's most famous names hopped into borrowed D1 cars to show the world that they too can turn right. All joking aside, this event was an opportunity for two very different sets of drivers to have fun, try something new and raise a lot of money for charity. This NASCAR vs. D1 event was hosted by Kasey Kahne, and accordingly all proceeds went to benefit his Kasey Kahne Foundation.

This was a drift-only event, meaning that there was no NASCAR-style racing to be found. This small yet very important fact surprised us as the stands were full of die-hard NASCAR fans. This NASCAR vs. D1 event would prove to be these fans' first-ever exposure to drifting, so many in the drift community were anxious to see just how the "rednecks" would respond to seeing "their boys" potentially not drive as well as a bunch of "fer-ners" from Japan. Would the drift fans' preconceived notions of NASCAR fans prove to be true, or would the NASCAR fans surprise everyone and show some love for a bunch of Japanese drivers and cars?

Though just an exhibition match, the folks at D1GP flew some of its best drivers in from Japan so that this new American crowd could see what Japanese-style drifting was all about. Ken Nomura, Toshiki Yoshioka and Takahiro Ueno represented D1 Japan, while Rhys Millen, Sam Hubinette, Vaughn Gittin Jr., Chris Forsberg, Calvin Wan and Tanner Foust represented the U.S. drift scene.

Not the type of company to be outdone on anything, NASCAR brought in a few of its top names. It was up to drivers like Kasey Kahne, Robby Gordon, Bill Elliot, Chris Cook, Greg Biffle and Matt Kenseth to show the world that NASCAR guys can do more than just turn left. As NASCAR cars aren't set up for drifting, many of the top D1 teams allowed the NASCAR drivers to borrow their drift-spec cars.

To make things easy on the NASCAR guys, the D1 officials had them start from the edge of the infield. Most of the NASCAR drivers had to hop into unfamiliar cars and drive in an unfamiliar style on an unfamiliar course layout, so forcing them to try to drift the bank at 100-plus miles per hour would have been dangerous. Even with the slower starting speed, it took a while for the NASCAR drivers to get the hang of drifting. For a while, it was almost just like watching an amateur Drift Day.

The NASCAR guys would approach the first corner at a relatively slow speed and then power-over in the middle of the corner. A lot of the guys either understeered or spun out. Robby Gordon hit the wall while driving Rhys Millen's GTO, which prevented Rhys from driving the rest of the event. Other than that, the NASCAR drivers more-or-less just spun out.

The D1 pros, on the other hand, put on a good show -- but something seemed to be "missing". With no championship points or a title on the line, the pro drifters also took things easy. No sense in breaking a car for a demonstration, right? The new-to-drifting crowd, on the other hand, loved what they were seeing. This "free-form" event allowed the pros to do things that would never fly in competition, such as rodeo drifts, 360s and more.

With the event being a "freestyle" demonstration, the NASCAR guys were able to go out fairly often. As the night progressed, the NASCAR guys really started to get the hang of this whole drifting-thing. The real standout NASCAR driver of the night was Chris Cook. Cook hopped into Robbie Nishida's Quaker State/Falken-sponsored 240SX, and drove the thing like he's been doing it for years. Not only was Cook the first NASCAR guy to drift the bank, he drifted it very well. He had the smoke going, and his speed was pretty good, too. Cook was able to come in from the bank, hit the clipping point and link every corner. His line was great, but his speed was a little bit low. Again, the guy just hopped into the car earlier in the day. All the drift pros agreed that if Cook could get a few days' worth of practice in a familiar car, he could easily qualify for a D1 or Formula D event. Rumor has it that Cook is planning on competing in a few drift events next year.

Event host Kasey Kahne was behind the wheel of Sam Hubinette's Viper, and he was the next NASCAR guy to drift the bank. His line wasn't as good as Cook's, but we feel that Kahne would also be able to get the right line and speed with a few days' worth of practice. Kahne and Cook also gave a tandem drift run a try -- it's obvious that both of 'em are still new to tsuisso runs, but at least they didn't hit each other. Not wanting to be left out, Robbie Gordon was able to convince Falken to let him borrow their FD3S RX-7, which he then promptly used to drift the bank. Gordon may have been able to redeem his driving skills, but he still owes Rhys Millen a new GTO control arm.

Everyone that attended -- from the drivers to the spectators -- had a great time at this first-ever NASCAR vs. D1GP event. People from both the NASCAR and the D1 sides are saying that this was just the first of many D1/NASCAR drift-off events. We're still not sold on watching NASCAR, but we'll be rooting for its drivers the next time they compete head-to-head against the D1 guys. Something tells us that these NASCAR guys may pull a Rod Millen and become the next force to watch in drifting's future.
Source: by Justin Kaehler, cars.ign.com/articles/730/730282p1.html

Packed Crowd Witnesses History At 'Mopar D1 All-Star Duel' - 9/5/06

---
The first-ever meeting of NASCAR stars and Drifters was an overwhelming success, as a jam-packed crowd of NASCAR and drifting fans came together to experience a historic event at the "Mopar D1 All-Star Duel presented by ShiftIntoGear." The thrilling exhibition had attendees on the edge of their seats at Southern California's Irwindale Speedway, known as the "House of Drift."

Fans of both NASCAR and drifting swarmed the Irwindale Speedway midway for an autograph signing with all the drivers, the line snaking behind the grandstands. NASCAR Cup stars Kasey Kahne (driver of the No. 9 Dodge Dealers/UAW Dodge Charger), Matt Kenseth, Bill Elliott, Greg Biffle, Robby Gordon, Scott Wimmer and Casey Mears (driver of the Texaco/Havoline Dodge Charger) mingled with drifters such as Team Mopar's Samuel Hubinette, Rhys Millen, Vaughn Gittin Jr., Tanner Foust, Ken Nomura, Tatsuya Sakuma, Toshika Yoshioka, Takahiro Ueno, and Hideo Hiraoka during pre-race ceremonies.

The Drifters kicked off the exhibition with a jaw-dropping all-eight tandem drift, drawing thunderous cheers as tire smoke wafted up into the crowd. Kahne (who went on to sweep the NASCAR Busch and Cup races at California Speedway over the weekend) and his NASCAR compatriots next took turns drifting the Irwindale course.

After tandem runs from the drifters, the NASCAR drivers attacked the course once again, impressing the crowd with their drifting skills after only a few hours of practice. Kahne and others, including Chris Cook, co-owner of ShiftIntoGear, Inc., drifted the high bank at Irwindale and took part in tandem runs. The night was capped off with the spectacle of another all-eight tandem run by the drifters.

"What a great event," said Hubinette, who was named Drift All-Star of the exhibition, with Kahne taking home honors as the NASCAR Drift Star. "We raised money for the Kasey Kahne Foundation and gave fans a show they'll never forget. The NASCAR guys, especially Kasey, really caught on to drifting quick and had some impressive runs. I hope we can do it again next year."

The funds raised at the event benefited the Kasey Kahne Foundation, which raises and donates funds to charitable organizations that care for chronically ill children and their families, including Ronald McDonald children's charities.

"This event was one that people will be talking about for years to come, and Mopar was proud to take part as the event sponsor," said Kevin Milller, Senior Manager, Mopar Brand, Performance & Motorsports. "Bringing Kasey, Sam and the other Drifters and NASCAR drivers together made for a unique event, giving fans the chance to witness history. Most importantly, all the fun helped support a really worthwhile cause."

Hubinette will be on the move again this weekend, heading from the West Coast to the East Coast for Round 6 of the Formula D Drift Series on September 9 at Wall Speedway in New Jersey. Hubinette, the 2004 Formula D champ, is only 11 points out of first, with two wins and three podium finishes on the season.

For information on Hubinette, Kahne, D1, Irwindale Speedway, Mopar, ShiftIntoGear, or the "Mopar D1 All-Star Duel presented by ShiftIntoGear," log on to www.samuelhubinette.com, www.kaseykahne.com, www.d1gp.com, www.irwindalespeedway.com, www.shiftintogear.com, www.christinemariemotorsports.com, www.motorsportsmanagement.com, www.mopar.com or www.moparspeed.com. For post event coverage of the "Mopar D1 All-Star Duel," log on to www.driftlive.com.


Source: www.driftlive.com/?p=347

---
Grip Racing drifting is an interesting motorsport it involves controling a car while it is going sideway whether it through a corner or in a straight line the cars set up for drifting have a completly different suspension setup compared to normal or grip racing as it is called. In grip racing you are trying to get the car to stick to the road at the highest speed . Drift racing as all about style and control the better you are the faster you go and the longer you can drift. Time and speed don't play a part really it the skill of the driver, his level of control.

The suspension in a drift car is very tight and unforgiveing even the chassis is tighened with roll cages and strut brace. The die hard followers of drift also alter the geometry of the suspenion this is to allow the the car to slide alot better.. The differentials aren't your standard limited slip type they are semi lockers to ensure there is more wheel spin.The cars quite often have different wheels front and back cause the owner has quite a few sets cause one afternoon of drifting can destroy a set of tyres. As a rule the good tyres and I mean very good tyres go on the front on the back they fit hard compund tyres quite often second hand ones as they tend to end up in a cloud of smoke. Also they stretch the tyres over a wide rim to give an example fitting 205 50 16 tyres to an 8" rim or 235 45 17 to a 9" rim this reduces the chance of the tyre rolling off the rim and enables the car to side better. The clutches on these cars ( dont bother drifting with an auto it is quite dangerous.. you can pretend in the wet though) tend to be very tough ceramic brass button or multiple plate varieties. Why? well alot of drifter use their clutch to commence wheel spin and hence the slide by either using compression lock or a clutch dump at high revs.

Power is not a requirement but helps in the learning stages. the most popular car for drifting is the the Toyota Tureno or sprinter this is a non turbo 1.6L 4 cylinder car that is quite light and twitchy. Other potential Drift cars are the Nissan Skyline and Silvia/180-240 platform..

Some level of understand is needed of grip racing before trying to drift. Corner entry speed, angles, turning at the correct apex,


Streets of San Jose July 27-29, 2007


Photos: Streets of San Jose, July 27-29, 2007. Gordon Clay

Photo Gallery - Infineon - July 8, 2006


Photos: Formula Drift, Infinieon Raceways, July 8, 2006, Gordon Clay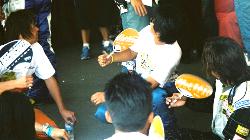 Driver's meeting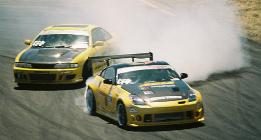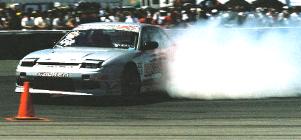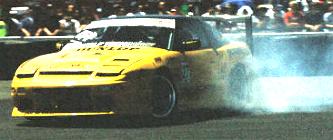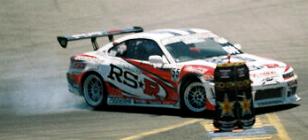 Photos: Formula Drift, Infinieon Raceways, July 8, 2006, Gordon Clay
* * *

---
WomenInRacing.org
©1996-2019 by of Gordon Clay