What a timely release, three weeks after Danica Patrick takes 4th at the Indianapolis 500, Herbie: Fully Loaded is released. And, Danica Patrick attends the premiere.
In the movie, Maggie (Lindsay Lohan) has been forbidden from pursuing her dreams of racing by her overprotective father and former NASCAR champ (Michael Keaton). He lost his wife and doesn't want to take the chance of losing his daughter, too, thought he doesn't have the same fear for his racing son (Breckin Meyer).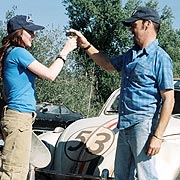 Family fare: Maggie shares her love of racing with her dad.
Dads everywhere. This is a flick to take your daughter to. It is a kid's movie that goes to that time when girls start thinking about horses or go-karts. (It's recommended for 8 and up but it's G rated and many of the 260 women racers we've listed started in go-karts well before 8.)
Kids-in-mind.com

rates it 3.3.2 on a scale of 0 - minimal to 10 - maximum in three categories: Sex & Nudity, Violence & Gore, and Profanity. See www.kids-in-mind.com/h/herbiefullyloaded.htm

to understand why each number is the way it is. Admittedly, Lindsey's body is played up for the teenage segment, and Herbie gets a erect radio antenna from seeing a brand new yellow Beatle, but that's pretty light by today's standards on your local news channel.
Kids-in-mind.com

recommends the following discussion topics: Death of a parent, death of a spouse, over protective parenting, car racing, pursuing a dream, sexism, disappointment, jealousy, lying, dishonesty. Movie Mom

recommends talking about why Ray had different views on letting his son and daughter race. How did Ray feel when he found out that Maggie lied? How did Herbie feel when Maggie talked about driving Trip's car?
The book Turn Signals are the Facial Expressions of Automobiles

shows us how the way cars are designed is in part a reflection of our willingness to see them as having emotions.
Other reviews: Atlanta Journal-Constitution

, Enterainment,

New York Times

, Seattle Post , USA Today

Movie Mom. Related Topics: Women in Racing
Movie Ratings, Other Movie Reviews

---
| | | |
| --- | --- | --- |
| | | |
Contact Us | Disclaimer | Privacy Statement
Menstuff® Directory
Menstuff® is a registered trademark of Gordon Clay
©1996-2019, Gordon Clay