LATEST SNIPPET
Pippa started 21st on the grid for the Firestone 500 at Texas Motor Speedway and had mechanical problems on lap 2 and finiahed 24th.




57:19
Direct access to this web page: http://bit.ly/bgoCQ4
Bio
Results
Schedule


Latest News

2012 IRL Race Schedule
2011 IRL IndyCar Schedule/Results
2010 Indy Lights Schedule/Results
Snippets
Job Search
Finding a new ride
Mann, Wilson to test at Kentucky with SSM
Contact: www.pippamann.com or E-Mail
Related Issue: Women Racers Directory, Women in Racing, Women Racers, More Women in Racing, Race Schedules, Notable Women

Nationality: British
Date of Birth: August 11, 1983
Birthplace: Ipswich, England
Residence: Indianapolis
Height: 5' 5"
Hobbies: AC Milan, squash, music, shopping
Favourite Food: Anything I'm not meant to be eating!
Hidden Talent: Does shoe shopping qualify?
Favourite Song: "Little Star", by Kelis
Current Road Car: Audi A3 Quattro - I love it!
Dream Car: An IZOD Indycar, of course!
Favourite Circuits: Indianapolis Motor Speedway, Watkins Glen, and Kentucky Speedway Favourite Place on the Planet: Cape Town, South Africa
Favourite Shop: Karen Millen in the UK / DSW in the USA
Childhood Ambition: Ballerina - though I quickly realised I didn't have any talent in this area
Nickname you'd give yourself: "Blondie"
Nickname others would give you: "Her" or "The Girl"
Favourite TV Show: "House" - I love this type of humour
Favourite Film: Is it too cliche for a racing driver to say "Days of Thunder"? Maybe "Pretty Woman" or "Dirty Dancing"
Pet Peeve: People who just stop in doorways or at the bottom of escalators - keep it moving people!
Favourite Food: Anything Italian, but nothing beats a truly awesome lasagne
Worst Habit: I get grumpy if I'm hungry or tired - you've been warned!
Favourite Holiday: Christmas - I get to see my family
If you weren't a racing driver, you'd be...: Involved in racing somehow
Born in London but now resident in Aldeburgh, Suffolk, Pippa Mann started competing in karting aged 13, racing in the categories of Junior TKM, JICA and Formula A, competing in the British Championships and selected races in Europe.
Mann is pragmatic about her expectations for the season: "This is going to be a learning year for me as I will certainly be one of the less experienced drivers in the field. However, this is not a short-term project and I am confident that with the expertise and experience of the team I will be able to fulfil my potential."
Mann Forced Out of Second Consecutive Top 15 Finish. Mann will be back in action on August 18-19 at Spa-Francorchamps in Belguim for the next round of the 2007 World Series by Renault Championship.
Away from the track Pippa enjoys music, squash and following the fortunes of AC Milan.

---
Pippa started the 97th running of the Indy 500 in the 30th spot and finished 30th after being pushed into the marbles trying to get back to her assigned position during the yellow.

* * *

For the first time since 2011, four women have qualified for the 2013 Indy 500. Pippa will start in the 30th spot on the grid.

* * *

Mann, Howard left on the sidelines for the 96th Indy 500

* * *
Pippa Mann has been released from the University Medical Center in Las Vegas, following surgery on Sunday evening to clean and assess a severe burn injury to the little finger of her right hand.
The Rahal Letterman Lanigan driver will require a subsequent surgery in the coming weeks to fully repair the injury, but is expected to make a full recovery. She finished the 2011 IndytCar season ranked 38th, having only participated in 3 races.
* * *
Pippa Mann gridded 28th at Las Vegas and finished 32 after the race was red flagged following a horrific crash involving 15 drivers. Dan Weldon lost his life and Pippa, JR Hildebrand, and Will Power were injured.
* * *
Pippa Mann had no time at Kentucky and is shown in 29th on the grid at Kentucky and finished 22nd.
* * *
Mann won't be on grid at New Hampshire

* * *
Pippa's next Indy Car race will be August 14, 2011 at New Hampshire Motor Speedway - Loudon, NH

* * *
Pippa qualified 31st for the Indy500 and finished in the 20th spot, 2 laps down from the winner.
* * *
Looks like Pippa has secured an eight race IndyCar oval program starting with the Indy 500. Schedule

* * *
Mann announces IndyCar test with Conquest Racing.

* * *
Pippa won most popular Indy Lights driver in 2010. Congrats!
* * *
Pippa Takes 5th in Final

* * *
Pippa does it. She started on the pole and lead all 67 laps for her first Indy Lights win. She came in 2nd last weekend, only 0.159 seconds out of 1st. She moves up to 7th in the overall standings with one race to go

* * *
Pippa Mann finished 2nd at Chicagoland, .0159 seconds behind the minner.
* * *
Mann started 13th, finished 8th in Toronto and is currently 11th for the season.

* * *
Mann Second Quickest at Indianapolis Open Test.

* * *
Pippa was gridded 13th at St. Petes inagural Indy Lights race and finished 13th, having dropped out with mechnical problems on the 6th lap.

* * *
Mann hopes to announce plans for her 2010 season over the next few months.
* * *
Pippa had her highest start this season in 3rd at Homestead and finished 67 laps in 8th which gave her a 14th overall for the series.
* * *
Pippa started Chicagoland in 5th and finished 64 laps in 9th.
* * *
Pippa started Infineon in 15th and finished in 14th. She maintains14th place overall.
* * *
Pippa started in 19th (last positoin) and finished in 15th at Kentucky. She is currently in 15th positoin in the standings.
* * *
Pippa was gridded at 15th on the Edmonton Airport circuit and finished 11th, one spot ahead of Ana Beatriz
* * *
Pippa gridded 14th and finished in 17th at Toronto.

---
Mann, Howard left on the sidelines for the 96th Indy 500

---
Two British drivers you won't be seeing in this year's Indianapolis 500 race are Pippa Mann and Jay Howard, and both are having to find new ways forward to get back into the series.

Two years ago, a young British driver by the name of Pippa Mann was on pole position at Indianapolis Motor Speedway for the Firestone Indy Lights Freedom 100, the curtain-raiser event to the start of the Indy 500 race weekend.

The year after that in 2011, she was on the grid at IMS again - but this time for the start of the centennial running of the greatest spectacle in motor racing itself, lining up in a Conquest Racing car and going on to finish in 20th place.

So impressed were IZOD IndyCar team bosses with both her driving and her social media marketing skills, Mann landed a three-race deal in late-season oval events with Rahal Letterman Lanigan Racing. The future looked bright indeed.

But in 2012, it's back to square one for the 28-year-old, London-born racer, and she finds herself on the sidelines at Indianapolis watching on while others get a chance to compete in the 96th running of the Indy 500 - but she does not.

"Sometimes these things are beyond our control," said Mann. "When you know that you've done everything you can to achieve something, and it still doesn't happen, it's frustrating and of course massively disappointing.

"But I did all I could and to that end, I have no regrets," she insisted. "Ultimately my only option now is to pick up, dust off, and get back out there!"

Another British driver, 31-year-old Jay Howard originally from Basildon in Essex, is in a similar position. He has two top five finishes in the Freedom 100 and made the grid for the Indy 500 for the first time in 2011 with Sam Schmidt Motorsports, but - despite seeming set for a second outing this year with new team MSR Indy - he too finds himself on the outside looking in in 2012.

"I'm gutted I won't be competing in the race this year," said Howard. "Qualifying for my first Indy last year was definitely a dream come true for me, and I'll never take for granted the opportunity at attempting to qualify at this special place."

Even once the MSR Indy deal fell apart when it was clear Michael Shank's fledgling IndyCar team wasn't getting an engine supplier in time, Howard hasn't been far away from the on-track action.

"I've been down at IMS every day the cars have been on track," he said. "Naturally, I'd prefer to be in the car, but just like the crowd, I'm also a fan too."

Mann had much the same feeling: "I'll definitely be watching from the sidelines to see how the rest of the month pans out," she confirmed. "I can't lie and say it won't be tough seeing the green flag wave on Race Day, as I have such good memories of competing in my first Indy 500 last year, but it's just one of those things. If it was easy, everyone would be doing it!"

While missing out on the 2012 Indy 500 is a bitter pill for both drivers, there's nothing else for it than to pick themselves up and focus on the next opportunity down the road.

"We're still looking for sponsorship but I'm as determined as ever," said Mann. "I know with the right people, we can put a deal together to run in the series for the remaining races."

Howard said that he is also turning his attention to picking up "additional races this season and for the 2013 season," and in the meantime would be at the Indy 500 for Race Day hosting some of his corporate sponsors and also working as a special social media correspondent for the Indianapolis Motor Speedway itself.

"I believe so much in IndyCar and just want to see them succeed," said Howard. "While I'm gutted I won't be competing in the race this year, I'm excited to still have the opportunity to present our sport to new corporate partners who were interested in our program."
Source: www.crash.net/indycar/news/179966/1/indy_500_mann_howard_left_on_the_sidelines.html

Mann won't be on grid at New Hampshire

---
Rahal Letterman Lanigan withdrew the No. 30 car from the MoveThatBlock.com Indy 225 at New Hampshire Motor Speedway after it made contact with the outside retaining wall (missing the SAFER Barrier) exiting Turn 2 during a pre-qualifications practice session Aug. 13.

Pippa Mann, seeking to make her second IZOD IndyCar Series start, was awake and alert following the incident. She was transported to Concord Hospital for evaluation and was released. X-rays and a CT scan did not reveal anything fractured. She will not be cleared to drive by the INDYCAR medical staff until she undergoes an MRI in Indianapolis on Aug. 15.

She was 11th on the practice time sheet at the time of the incident.

"Pippa worked very hard this weekend and we are hoping for a speedy recovery and a return to the Rahal Letterman Lanigan IndyCar," team co-owner Bobby Rahal said.

Mann, who competed in Firestone Indy Lights in 2009 and '10, competed in the Indianapolis 500 in May. She is scheduled to compete at Kentucky Speedway (Oct. 2) and in the IZOD INDYCAR World Championship (Oct. 16) at Las Vegas Motor Speedway.
Source: indycar.com/news/show/55-izod-indycar-series/44625-mann-wonand-39-t-be-on-grid-at-new-hampshire

Mann wastes no time getting up to speed

---
Yesterday, Pippa Mann and Rahal Letterman Lanigan Racing successfully completed a one-day test at the New Hampshire Motor Speedway in Loudon.

This was the first outing for the pairing since they announced that British driver Mann would be racing the team's #30 Dallara/Honda/Firestone IndyCar at the Loudon, Kentucky and Las Vegas rounds of the 2011 IZOD IndyCar Series.

Mann had a solid day, turning 168 laps on the challenging, one-mile oval. Mann logged 75 laps in the morning and 93 in the afternoon, whittling tenths of seconds off of her time until she was able to circumnavigate the Loudon layout in less than 23 seconds.

"We had a pretty good day overall today," reported Mann. "We worked on a lot of things, but most importantly, we worked on achieving good communication between myself and my engineers."

Mann was joined at the test by Penske's Will Power. "It was great also having Penske here," said the 27 year-old Indy Lights race winner and graduate, "as it gave us a benchmark to work from, and it looks as though on our very first day working together we are most definitely in the ball park. I felt good and I look forward to coming back here next month!"

The full day's effort allowed Rahal Letterman Lanigan to try many different variables on the car, which will give the team a baseline to work from when it returns for the August race weekend. It was important not only for the comfort level of working with a new driver, but also for working at a new track, since RLL has not been to Loudon since 1995. The track does have fond memories for the team's co-owner Bobby Rahal however, as the three-time Indy Car champion won the inaugural open-wheel race in Loudon in 1992. Rahal was on hand today for the test and was encouraged by the day's results.

"We finished our first test with Pippa at Loudon, and I thought it went very well," Rahal said. "Pippa did well with her feedback and we were able to sort a great number of items including several key engineering planned test items. Obviously this test gives both her and the team a good starting point when we come back here for the race weekend. Anything you can do to help improve your chances in this field in a positive step for all of us."

Speaking about the track itself, Mann added: "It's a very cool, tough little track. There's a fairly nice bump between one and two, which while not Iowa-esque is going to have quite a few people playing catch when we come back here for race weekend," said Mann. "It will be extremely interesting to see whether pole ends up being a flat out lap, or whether the pole sitter will still have to lift. Definitely not an easy place to try and run full throttle! The pit in and pit out are very tight, and that will almost certainly affect the race, and it will be interesting to see whether we can run two wide through the corners here! One thing is for sure- it's certainly not going to be easy!"

Both Mann and the team now continue their preparations for the Loudon race, which is scheduled to take place on 14th August. This will be Mann's first race since her IndyCar race debut at the Indianapolis 500 earlier this year, and first ever race with Rahal Letterman Lanigan.


Mann heads to New Hampshire for Loudon test

---
Pippa Mann will get back in an IndyCar tomorrow, for the first time since completing the Indianapolis 500 in May - her first ever race in the IZOD IndyCar Series.

Now, the popular British driver is set to make her debut with Rahal Letterman Lanigan Racing, as she and the team head to the New Hampshire Motor Speedway to test on the 1.058-mile oval, ahead of the MoveThatBlock.com Indy 225, to be held there in August. Next month's event will be Mann's first race with the Rahal Letterman Lanigan team, so she hopes to make the most of their track time in New Hampshire tomorrow.

Looking ahead to the test, Mann said: "I've been counting down the days until we arrive in Loudon, and I'm very excited to be getting back in an IndyCar so soon after the Indy 500. The team have been working very hard since the announcement to get prepared for this test, and I'm confident that we'll be able to extract a lot of useful information from our running time around the speedway tomorrow.

"This will be the shortest oval I've run on in an IndyCar, so getting some good mileage under my belt will be important, as well as gelling with the team and getting used to working with my engineer and crew. It's been a very positive experience so far, getting to know everyone at Rahal Letterman Lanigan over the past month, and now I'm just ready to get in the car!"


Pippa signs with Rahal Letterman Lanigan Racing

---
Rahal Letterman Lanigan today announced that Pippa Mann will join the team for three IZOD IndyCar events later this year.

The Firestone Indy Lights race winner and 2011 Indianapolis 500 rookie will drive the RLL #30 Dallara/Honda/Firestone at the Loudon, Kentucky and Las Vegas races. The 27 year-old Briton will complete two tests with the team as part of the program, the first of which will take place at Loudon's New Hampshire Motor Speedway on 5th July.

"I'm absolutely thrilled to have the opportunity to get back into an IndyCar this year, with Rahal Letterman Lanigan Racing," said Mann. "The team has a great history in IndyCar, and a reputation that precedes them for consistently fielding fast cars.

"After I completed my Indy 500 program, I didn't know what lay ahead for me, and I'm delighted not to have had too much time off before getting back in an IndyCar. I'm especially happy to have the opportunity to return to Kentucky Speedway - where I won in Firestone Indy Lights last year. Loudon and Las Vegas will both be new tracks for me, so that's really exciting, and I'm looking forward to the test in New Hampshire in just three weeks time!"

Team co-owner Bobby Rahal added: "Pippa showed her skills in Indy Lights last year, but we were also impressed with the way she handled herself at Indianapolis this season. She showed patience during the month and kept finding speed in the car, and her racing resume has shown that she will continue to get better every time she puts in a lap. We are looking forward to seeing her progress as the year goes on."

Last month, Mann became the first British female to qualify and compete in the Indy 500, where she battled from 31st on the grid to finish in a solid 20th place. "I would like to thank Conquest Racing and Eric Bachelart for giving me my first opportunity to drive an IndyCar, and for making it possible for me to run at the Indy 500 this year. One opportunity often leads to another, and I will always credit and be grateful to Eric for being the person who had enough faith in my abilities to give me that very first run. I had an amazing month in Indianapolis and owe such a huge part of that to Eric and the team."


Pippa Mann completes Conquest Racing's Indy 500 line-up

---
Conquest Racing has announced that Pippa Mann will drive for the team in this year's Indianapolis 500.

The British driver joins Sebastian Saavedra to complete Conquest Racing's line-up for the 100th anniversary of the Indy 500, where Mann will make her debut in the IZOD IndyCar Series driving the #36 car.

Mann was last year's Freedom 100 polesitter and the first and only female to win a pole at the Indianapolis Motor Speedway. The British driver, from Suffolk, will be the fourth female confirmed as one of the 42 entries for next month's Indy 500, but will be the first ever British female to be on the entry list for the 500-mile race.


Mann completes maiden IndyCar test

---
Pippa Mann completed her first test in an IndyCar yesterday, after she took to the Texas Motor Speedway with Conquest Racing. The test, originally scheduled for Monday, was postponed due to bad weather, with the team electing to remain in Texas in the hope that conditions improved overnight.

Tuesday saw clear blue skies above the speedway, and Mann was able to get her first feel for driving the Conquest Racing IndyCar.

The British female driver got up to speed quickly, wasting no time as she consistently began running laps, producing competitive times and steadily extracting more and more from the car. In the afternoon, a fuel pump issue interrupted running, however the team worked hard to get the problem resolved, and they were able to resume the test.

The Firestone Indy Lights race winner had the added task of passing her official rookie test at Texas, which she did without problem.

Speaking about the test, Mann said: "Today has been a very good day - it's the first time I have driven an IndyCar, as well as my first run at Texas Motor Speedway, so before we got started I really didn't know what to expect. I was able to get comfortable and up to speed very quickly, which meant we were able to get on with our testing plan. We ran some competitive lap times, both on new and used tyres, and although we lost some track time during the middle of the day with the fuel pump issue, the team's hard work ensured we were able to get back out again."

Mann added: "Overall I'm not only pleased, but excited by how the test went. I loved everything about driving an IndyCar, and I'm excited about the prospects for the coming season. We're still working very hard to put together a full oval program for 2011, and I hope to be able to provide an update on that shortly."


Mann announces IndyCar test with Conquest Racing

---
Pippa Mann has announced that she will be taking to the wheel of an IndyCar with Conquest Racing later this month, when the British driver tests with the Indianapolis-based team prior to the 2011 season. The one-day test is scheduled for Monday 28th February at Texas Motor Speedway, and it will be Mann's first outing in an IndyCar.

"It feels like it has been an extremely long off-season," said Mann, "and I can't wait to finally get back behind the wheel of a race car. We have been working exceptionally hard throughout the winter to put together a program for me to run in the IZOD IndyCar Series, and while our main focus has been on the Indy 500, we would obviously like to run as many of the 2011 races as possible. We are most likely now looking at a full oval program, which will hopefully bridge the gap to a full-time drive in the series in 2012.

"The upcoming run will serve as my rookie test for the IZOD IndyCar Series, and also work as good preparation for the program we are trying to put together. Eric Bachelart and Conquest Racing have been especially interested in what we are trying to achieve, and I'm extremely excited to have the opportunity to drive one of their cars."

Conquest Racing team owner Eric Bachelart added: "I've watched Pippa race in the Indy Lights series and she's constantly progressed over the course of the two seasons. I'm pleased to be able to give her the opportunity to drive an IndyCar for the first time and I can't wait to see how she will perform behind the wheel of the Dallara. From a team perspective it will be a special moment as she will be the first woman to test with us. I'm looking forward to it."

In 2009, Mann competed in the Firestone Indy Lights Series with Panther Racing, securing three top ten finishes during her debut year.

The following season she moved to Sam Schmidt Motorsports with whom she inscribed her name in the history books as the first female to win a pole at the Indianapolis Motor Speedway. That same year, despite breaking her hand during practice for the Toronto 100, Mann took her first Firestone Indy Lights victory just seven weeks later at Kentucky Speedway - where she led the race from start to finish. Mann scored three pole positions, four top five finishes, and a dominant win during the 2010 season, seeing the young Brit finish fifth in the driver's championship.

---
Pippa Mann dominated the Kentucky 100 to take her maiden victory in the Firestone Indy Lights Series, completing a perfect weekend for the young Brit.

After winning the pole on Friday, Mann led from the green flag at Kentucky Speedway on Saturday, and instantly pulled out a lead of four car lengths to Martin Plowman (AFS Racing). However, a collision on lap two involving Mann's team mate Phillip Major, and the Bryan Herta Autosport cars of Daniel Herrington and Stefan Wilson, led to the race being red flagged on lap three.

On the re-start, Mann was under pressure from Plowman, and as the pair ran side-by-side, he tried to drive around the outside of the #11 car. Mann refused to give up the lead, and her pace was too much for Plowman's #27 machine. She pulled away, and by lap 10 had extended her lead to just over a second.

From that point onwards, nobody had an answer for Mann's pace. The Sam Schmidt Motorsports driver controlled the race from start to finish, and took a superb victory in the Drive Smart Buckle Up Kentucky 100. Underlining her dominance, the 27 year-old racer crossed the line almost seven seconds ahead of second-placed man James Hinchcliffe (Team Moore Racing), having led all 67 laps on the 1.5 mile oval.

Speaking about the win, Mann said: "I joked yesterday that I was going to run away and hide today, but I didn't really think it would happen. I got my legs underneath me, started pedaling and no one could catch me. Last week at Chicagoland, it was fast racing, but this is a handling track. You have to set the car up to run the fastest line and we focused on that. If we got into deep traffic today, I don't think we could've run as well, but we took a little bit of a gamble on the set up and it paid off. I'm extremely happy for the Sam Schmidt Motorsports team and obviously the #11 crew – they thoroughly deserve this."

The result puts Mann in seventh position in the 2010 Firestone Indy Lights championship standings. The series now heads to Florida where the final race of the season will play out at Homestead-Miami Speedway on 2 October.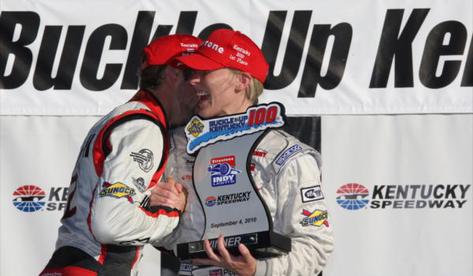 Mann strickes from the pole for first win.

---
Pippa Mann did everything right to win her first Firestone Indy Lights race. J.K. Vernay did just about everything right during the season – and just enough in the Drive Smart. Buckle Up Kentucky 100 – to virtually wrap up the series championship.

Mann, the pole sitter, jumped to a large lead after a Lap 5 restart and cruised to the victory on the 1.5-mile Kentucky Speedway. She's the second female (Ana Beatriz at Nashville and Iowa) to win in Firestone Indy Lights.

"This weekend, we started out right and got it in qualifying and took it in the race," said Mann, whose previous high finish was second a week earlier at Chicagoland Speedway. "I said my game plan was to run away and hide, but realistically I didn't think it would happen. I am so pleased and my team gave me an awesome car.

"I was praying that a caution didn't come out because if a caution didn't come out we had a really good chance of winning. I was praying that no one got into it behind me."

James Hinchcliffe, driving the No. 2 TMR-Xtreme Coil Drilling car, finished 6.8372 seconds back and Vernay was third in the No. 7 Lucas Oil/CJ/Sam Schmidt Motorsports car. He takes a 48-point lead over Hinchcliffe into the season finale Oct. 2 at Homestead-Miami Speedway and only needs to take the green flag to clinch the title.
Source: indycar.com/news/show/56-firestone-indy-lights/39536-mann-strikes-from-the-pole-for-first-win/

Pippa Takes 5th in Final
Firestone Indy Lights driver Pippa Mann offers up her latest entry in her 2010 driver diary. This week, she goes for a top-five finish for the season.
Homestead-Miami was the championship weekend for the IZOD IndyCar Series and Firestone Indy Lights. While the IZOD IndyCar Series championship was still wide open going into the race weekend, ours was almost tied up - all J.K. Vernay had to do was start the race.
The middle of the points for FIL was much more interesting though. From where I was sitting in seventh, down to 11th was only separated by a few points. Just like oval racing, anyone who made a mistake would get dropped to the back of the pack. I had a much larger point gap to the two cars in front of me, but given our recent form with the white #11 car, I felt fifth place in the points' standings was in the cards.
My weekend started at 4 a.m. on Thursday morning in Indy, to catch a flight at the crack of dawn. You all know by now that I am absolutely not a morning person, however there's some reprieve to it when it involves getting in a race car, in my book there's pretty much none when it involves anything else!
As we drove into the track, it became apparent how much rain there has been in Florida recently, even since our test at the track. If we were hoping for the track to be a little less green and slippery on race weekend, it didn't look like we were going to get any luck. The wind, although blowing at a much more manageable and constant speed, was also going in completely the opposite direction to when we were testing. I was glad the gusts were down, but I knew the complete about-turn in wind direction would change the handling of the car fairly significantly.
Homestead is a fairly interesting oval for a driver. It is a paperclip shaped oval rather than the other mile and a half ovals that we race on, which are D-shaped ovals. On paper both ends of the track look almost exactly the same, and the radius' of the corners are almost entirely consistent. In reality, on the track, both ends are nearly always completely different. You always end up living with the car as loose as you can one end to compensate for the understeer at the other end, or with as much understeer as you drive one end so as not to be completely loose back at the other.
The first (practice) session started fairly well. The wind had changed the handling of the track, and it quickly became apparent that Turn 4 was going to be the main problem corner for everyone out there this weekend. We were fairly good again in clean air, one of the quickest no tow cars out there, and not bad moving through the traffic. But, as the session went on, we started to realize that we were still struggling to make the car turn enough through Turn 4, and as a result it was quickly wearing out my right front tire. Other people seemed to be having the same issues, but we wouldn't win the race if we were struggling to finish.
The second (practice) session was at the same time of day as we would be racing on Saturday afternoon. We came out of that one with slightly long faces. I had destroyed my right front tire a whole 10 laps before complete race distance. In our qualifying simulation test, the balance was OK, but the time was not even nearly fast enough. Suddenly, I was staring down the barrel at possibly only a top-five qualifying rather being in the hunt for pole where I had hoped to be, and possibly struggling to hang on in the top 10 in the race. Fifth place in the drivers' championship was starting to evaporate.
I sat and talked with my engineer about what I needed from the car for qualifying to make it faster. I told him I thought we needed to change the balance to be fast around Homestead. This is one of those places where, certainly in qualifying, as the old adage goes - loose is fast. Now if you're too loose, you end up correcting the wheel too much and scrubbing speed, or more seriously, backwards in the fence. However there was a bonus point for pole position, and we wanted it.
I was ninth in line to go out on track to qualify. The sun dropped behind the main grandstand, and the track temperature immediately started to cool with the falling temperatures. The times posted on the board were fast. What we had in testing didn't even look like it would be enough to keep us up in the top 10.
My time to go came. I remembered from the previous year here that the warm up lap at Homestead is so important. If you go too fast out of the box, the tires fall away so quickly that your timed laps can be slower than your warm-up one. My engineer told me afterwards he thought my warm-up lap was too slow, and I wouldn't have been able to get up to speed in time for my first flying lap. The other problem with running a slow warm-up lap is you get no feel of the balance of the car before you go. Going into Turn 1, on green flag Lap 1, flat out at over 185pmh, was the first time I was really able to feel the balance out.
It was better than the afternoon, but I was still turning the wheel a fraction too much. Every turn scrubs off ultimate speed. I decided I could run the car looser, and made an adjustment in the car. Then going into Turn 3, coming off the back straight, as I straightened my hands on the wheel, the car started to turn itself. I knew it was fast, but I also knew that one false move, and I would have an expensive mess on my hands.
Across the line for the first flying lap. The time was good. My instincts were right. Now I just had to hold it all together for one more lap.
The second lap was fast too - provisional pole. It's probably worth noting though that I don't think I have ever backed off from something quite so soon after crossing the line at any other point so far in my short oval career! We put the car on the edge, and it survived, but I wasn't going to drive my in lap like that.
I sat watching the monitors. With one car left to run I started to smile. When he was done, we were all smiling. Pole No. 3 of the year for the #11 crew, but even more importantly – one more bonus point to help in the pursuit of fifth in the championship.
Race day dawned with the wind still blowing the same way as the previous day. Despite the good qualifying run, we knew we hadn't really solved our issues with the race car, but we were hoping to stay up front as long as we could anyway. There are two more bonus points for leading the most laps. If at all possible, I wanted those too. We thought we would be better in the first half of the race, rather than the half that mattered, due to tire wear, so the plan was to try and lead the race from the front and get those two points early on. At the same time we tried to set the car up to help us conserve the tires, so we would still have something left at the end.
My start went absolutely according to plan and was perfect. I started the race right when I wanted, and got a great jump. Unfortunately as we headed into Turn 1, it became apparent that I just wasn't picking up speed fast enough. Third-placed Brandon Wagner was simply able to sweep around the outside of me as though I was lifting, yet my foot was firmly planted to the floor. Another car did the same, and I was first to third on the first lap. But we were starting to get up to speed.
The balance was much better than it had been the previous day, most of our changes had worked. But we were lacking straight line speed, and although I could run well through the corners, I was still struggling to stay in the tow of the first two guys going down the straights. We had just gone a little too conservative on our aero, the track wasn't as slippery as we had thought it would be. The good news was I actually felt confident for the first time that we would have tyres left at the end of the race.
We had one restart in the race, and again I struggled to get up to speed quick enough. I worked hard with my tools inside the car to make sure I was doing everything I possibly could to save the front tires. Every time the balance of the car started to feel good, I dialed more oversteer back in to make sure I was keeping the right front underneath me. Towards the end, I realized I had gone a little far, and I was starting to slide a little from the rear, but it didn't bother me. I just used my tools again, re-adjusted, and started to use my front tire a little more.
With five laps to go, I was clear in fourth place and working my way through lapped traffic. That's right about when my heart stopped, and I had my biggest moment of the race.
Going into Turn 4, I went to the inside lane of the car I was coming up to lap. I don't know if his spotter didn't tell him I was there, but he came down right in front of me, taking all the air off the front of my car. I had to jump out of the throttle to avoid hitting him, which made the back of the car snap away. At the same time, the sudden change in air at the front of my car made that end take off too. I was careering up towards the Turn 4 outside wall, trying to get back to throttle, desperately trying to find enough grip to save the car.
Adrian Campos Jr., who had been five car lengths back, was just far enough back to avoid the drama, and swept up the inside of both me and the car I was trying to lap going into Turn 1. Four laps to go, my tires were nearly done and covered in rubbish from getting so high through Turn 4, and now I had to go three wide through Turns 1 and 2, high on the outside, in even more junk and rubbish.
My car was as sideways as the dirt cars I saw racing at Eldora speedway the previous weekend. That I made it out the other side was nothing short of a miracle!
But fourth place in the race was gone. The big picture was still fifth in the championship though, and by my rudimentary math sitting there in the car, I reckoned we had it. It was time to rein my neck in a bit. I had a huge gap back to the next car, the next car to lap was far enough ahead that if I cruised a little I probably wouldn't have to worry about him before the end. Sometimes in racing, as in life, you have to make the mature decision. This was one of those moments where I saw the bigger picture.
No more dramas, no more moments. We came home in the race in fifth place. It might not have been the sheer pleasure, and almost disbelief at finally winning at the previous race, but it was a warm feeling that washed over me as we came down pitlane. My crew have stood by me through thick and thin this year, and bringing them home that result along with the win a few weeks earlier goes a long way to pay them back for their time, effort, and commitment.
The biggest story of the race was rightly Brandon Wagner, a guy who has come up through dirt track racing here in America, winning his first race for a small team on a day at the race track when car control was king.
My story of the race was more about having a fitting final chapter to the story of my year in Firestone Indy Lights. We faced adversity more than once, but we stood up every time and faced it head on. We have come back from the depths, and ridden out the end of the year on a wave. This was my goal coming into the weekend, and on a weekend where we didn't have it all our own way, we still achieved that goal.
As a final thought in my final race diary entry of the year, when people talk about my finish to this year, and how it did get us fifth in the points, I can actually think back to another race, which really made all the difference. Not winning in Kentucky, and not the run to second in Chicagoland, but Edmonton.
Edmonton - where I was ran my second race on a second consecutive weekend with a fully displaced broken bone in my left hand, at the most physical track of the year. Everyone told me I was (crazy). The pain was like nothing I can even begin to describe to you. We sat out so much of the running, we were merely guessing on set up. Hanging on for the entire race distance, grimly determined to beat whomever I could, and not fall off. At that moment, with so little gained, for so much suffering and pain, I wondered whether I had really made the right call to put myself through that. Was it really worth it?
If I had bailed out on that race, been unable to fight through, I would not have had the result to this season we were looking for. To use another old adage - no pain, no gain. This weekend I finally realized just how much forcing myself to stand strong through Edmonton had done for me. Grinding out a result, when it shouldn't be possible, is sometimes what it's all about. Those are the tough, dark weekends of the year that can define where you finish a championship as much as the good weekends.
And in answer to the question posed above? Was it worth it? Yes. Undoubtedly, unequivocally and undeniably – yes!
Source: indycar.com/news/show/56-firestone-indy-lights/40022-driver-diary-season-finale/

Mann Second Quickest at Indianapolis Open Test

---
Pippa Mann has completed the first official 2010 test at the Indianapolis Motor Speedway, having set the second quickest time of the day. With a lap of 190.225 mph, Mann narrowly missed taking the top spot, which was set by the #10 car of Gustavo Yacaman who managed to turn a lap of 190.511 mph.

Jeff Simmons was third (190.072), Charlie Kimball fourth (189.864), and defending race winner Wade Cunningham took fifth position (189.672) in today's test.

Mann spoke about the result: "The car feels great in traffic, and I had a lot of fun today running side by side at IMS. We've got some work to do on the solo lap – to make sure we have the speed without a draft, but there are some places we know we can make up some time, and regardless, I'm confident we will have a good race car for the Freedom 100."

Mann will next take to the track on the morning of Thursday 27th May, when the Firestone Indy Lights series will complete their final practice session before qualifying for the Freedom 100 later that afternoon.
Source: www.pippamann.com/NewsArticle.aspx?ArticleID=254

---
Firestone Indy Lights driver Pippa Mann offers up her latest entry in her 2010 driver diary. This week, she brings us to the Firestone Indy Lights Indianapolis Open Test with her Sam Schmidt Motorsports team.

The Indianapolis Motor Speedway is a magical place. This time last year, I turned my first ever laps around this amazing track, and although I had a good car by race weekend, the test prior to opening day didn't go so well. I came out of it with some trepidation about the race weekend, and still as an after effect I went into this year's test with a little trepidation remaining as well.

Driving a car really fast around an oval in clean air is a little like a black art, but once you're mastered it, you start to understand it's all about the tiny details which make a big difference. Last year for me, driving around very fast in clean air and qualifying up front regularly was something that I was able to achieve, and I discovered the true black art is learning how to drive the car around an oval fast in traffic and dirty air. How to have the confidence to stay inside or outside without even thinking about lifting while racing two by two at over 180mph with inches between your wheels. That is the true black art.

This year only the rookies had a test on an oval before we went to Indy for our Open Test, so Indy would be the first place where I would really be able to explore what my No. 11 Sam Schmidt Motorsports car could really do. Last year at this Indy test, no one really ran side by side - whoever was on the inside on the way in took the turn, and whoever was on the outside gave it up. The first time the Firestone Indy Lights cars really ran side by side last year at Indy was on Race Day, so going into the test I thought the best that was going to happen was that I could work on following, and work on my timing to get that pass just right down the straight without lifting.

About 10 minutes after the green flag dropped, I headed out onto the track for my first run. As I headed into turn one for the first time I wondered whether I'd forgotten how fast this place was, then as I headed down the back stretch into turn three, my brain went into "oval mode" and 190mph became normal and I started to feel out my car. By lap three, I was running flat out and immediately into the top five in times. It felt good to be back.

For the rest of the morning, we spent time working on the car, working on the driver, working on going fast. And then in the afternoon session we decided to start look for people to play with - and that was when the fun started.

After getting a few runs, and passing a few people in the usual Indy test way, where you make the pass on the straight rather than running side by side through the corners, and similarly getting overtaken by the occasional car in my tow in the same way, I decided to have a look on the outside going into turn three – 75 percent throttle. I held the outside line, waiting to see how it would feel, how the car would handle. And the answer was, it felt pretty good. A couple of laps later I decided to really find out what I had and see if it could stick the whole way around the outside. Last year whenever I did this, my heart was in my mouth, I could feel the back of the car trying to escape from behind me, and I had to remind myself to breathe while trying to make a pass. This year, in this car, I suddenly discovered that when my car likes the outside as much as the inside, I like the outside as much as the inside.

For about 10 laps I had a mini race-style battle with one of the other drivers. In oval racing, you can't block, you can't change your line, but if you're fast enough to hold the outside all the way around, and confident to get close enough to make really good use of the side-draft coming off onto either the long front or back stretch at Indy, I discovered I could make my car very difficult to pass. I started working on always being the car ahead over the start finish line, and I think in those 10 laps I was the car across the line first nine times. According to most of the people watching, we put on quite a show, and inside or outside, for the first time in my oval career, with this great car underneath me, I was loving every minute of it.

We pitted for a set of "matched special staggereds" (Days of Thunder quote - actually we just checked tire pressures) and went back out into the fray again. I found someone new to run outside or inside of, and I liked it just as much the second time around. When the chequered flag for the session came out I was just ahead of one of the two guys I had been running with. Sure it means nothing, but psychologically of course it means something. Find me a racing driver who doesn't like coming out of a dice to the flag first, even in a test session.

So what else did I learn from the test day? Well, I still need to find a little solo speed, but we have two whole weeks to work on that. However, as second quickest on the time sheets, we're obviously good in a tow, and with a car that runs either side out there, I know we'll be coming to the front in a big hurry on race day. I also learnt that whoever is leading the race, doesn't have the tow, and whoever doesn't have the tow is going to get passed by the car behind. But then I learnt that when someone is trying pass me on the inside I can sometimes drive all the way around the outside of them and hold on anyway, or if they're trying to pass me on the outside, I learnt I can hold on to the inside and stay ahead that way too. I learnt I can pass on whichever side is open, and the timing of the pass to go to the front will be the key to winning the race.

There are a lot of other good people out there, but my team and my car is very good too, and this year, we're coming to play. My last thoughts as I went to sleep last night, and my first thoughts as I woke up this morning were all about different scenarios - who I'm going to be racing up there, and how I'm going to time that pass right, and get that pass done to make it across the line – hopefully P1 at the checkered flag.

Watch your mirrors boys - I'm coming.


Mann Achieves Top 10 in Long Beach

---
Pippa Mann scored a season-high eighth place in the Firestone Indy Lights, Grand Prix of Long Beach. Climbing four spots from the start of the race, Mann put in a strong performance at the Californian event, to take her first top ten finish of the year.

The race got underway without incident, and at the end of lap one, Mann was in 13th position, having just dropped a place to team mate James Winslow. By the halfway point of the race, Mann had worked her way up to 11th position, when Adrian Campos Jr. ran wide and into the tyre barrier right in front of her. Mann responded immediately and managed to avoid any contact, moving herself up into the top 10.

From there, Mann continued to push, and where other drivers came unstuck around the challenging streets of Long Beach, Mann kept her composure. Finally crossing the line in a deserved eighth place, the young Brit achieved her best ever finish on a street circuit.

Mann commented on the result: "Overall I'm really pleased – while I've had results on ovals and road courses, we've never been so far forward on a street circuit. There were a lot of cautions, but I managed to make no mistakes and put people under pressure, which paid off in the end. Hopefully we can take this momentum forward through the rest of the season."

The result places Mann 10th in the point's standings going into the next race, when the Firestone Indy Lights drivers prepare for the 2010 Freedom 100 at the Indianapolis Motor Speedway.
Source: www.pippamann.com/NewsArticle.aspx?ArticleID=252

Mann Taken Out of 2010 Season-Opener

---
Pippa Mann was forced to retire from the opening round of the 2010 Firestone Indy Lights championship, after sustaining damage in a first corner incident which took her out of contention.

The Sam Schmidt Motorsport driver managed to start the race, despite suffering from an ongoing virus which had hampered her throughout the build-up to the St Petersburg event. As the race got underway, Mann was positioned well for the first corner, however Adrian Campos Jr (Team Moore Racing) made a dive down the inside line from a number of car lengths back and appeared to miss his braking point. Campos Jr made heavy contact with the side of the #11 car, and Mann could do nothing to avoid the incident.

Continuing on regardless, the field slowed for a full course yellow brought out by a further incident, and Mann struggled to keep the car facing the right way under caution. As rain fell over the Florida street circuit, a red flag ordered all drivers into the pits to change tyres, and with the car stationary on pit road, the team were able to diagnose the problem. The first corner incident had ruptured the oil cooler on Mann's #11 car, and her rear tyres were covered with oil.

Unable to continue, Mann's tough weekend came to abrupt end. Speaking about the race, Mann said: "I got a good start and went to turn in at the first corner, and from nowhere I got tagged heavily from the inside. I've been battling with illness throughout the weekend but regardless, I'm gutted to be out of the race. I've just got to focus on getting healthy now and coming back strong at Barber Motorsports Park in a couple of weeks time."
Source: www.pippamann.com/NewsArticle.aspx?ArticleID=240

---
Throughout the off-season, Firestone Indy Lights driver Pippa Mann will share her job hunt with race fans through a blog firestoneindylights.com. Today, she takes testing with Sam Schmidt Motorsports.

Since my first outing back in a car a couple of weeks ago at Kentucky, I've been keeping busy with all the other stuff racing driver's do in the off season.

I've been training myself into the ground with the kind help of those at PitFit, and also down at the Sam Schmidt Motorsports workshop - debriefing from Kentucky and preparing for my next outing at Barber Motorsports Park in Alabama.

My manager also came to town, and we had a week of meetings, which meant eating at a number of very nice restaurants. It's lucky he doesn't come to town too often, as if I ate at those places all the time I'm sure I would soon be too big to fit in a car at all!

Talking of fitting back into a car. I was pretty excited about my next outing with the team. I may love the ovals, but as a European driver, I come from road racing and the big famous European circuits back home.

My next test would involve me turning right more than I did left, as I would be getting back to my racing roots running at Barber.

Monday morning - the day of the test - started early. Part of the reason for the early start is the light seems to start and end early in Alabama at this time of year.

This meant we were out on the track by 8:30 a.m., and would have until 4 p.m. before the light ceased to cooperate. I had already been told that this car would require a different driving style to what I was used to, and I knew I would have a lot to learn. So, I was the first car out onto the circuit, getting the sound of the engine echoing around the facility, and knocking the cobwebs off remembering how to turn right after nearly three months of running on ovals.

The car really was different, but I just started driving it, and began to enjoy lap after lap. My pace was improving throughout the morning and the lap times came tumbling down - things were looking good.

Then, just before lunch time, I kind of stalled out. It became apparent that to go faster again I needed to work on a different driving technique - one that's completely new to me as a driver.

Back home in Europe, I went straight from Formula Renault 2.0 to Formula Renault 3.5, and I completely skipped a 'middle series' such as Formula 3. This Indy Lights car was much more like an F3 car - so back to school for me then!

The afternoon was spent working on putting into practice the things which were so easy to say and understand when in the pits, but actually much more difficult to do when out on circuit. Unlearning what you know, and learning something new, even just the smallest detail, is basically trying to get rid of bad habits - and it's not easy! However I gradually started to get better at kicking my bad habits, and the lap times certainly showed their appreciation! It's a great feeling knowing you're starting to do something right, but that still doesn't make the road ahead any easier…

In the end, I set my best lap time of the day as the track surface and temperature were going away from us right at the end of the test.

Everybody else had slowed up a bit at that point, but I was still learning, and still getting quicker. I didn't run as fast as I wanted to at the start of the test, but I still ran much better than I had done previously this year on a road course.

The main thing is that not only had I started the process of putting understanding into action on the track, but if you can understand why you're fast, you stand a better chance of being faster everywhere you go.


Finding a new ride Oct. 23, 2009

---
Throughout the offseason, Firestone Indy Lights driver Pippa Mann will share her job hunt with racefans through a blog firestoneindylights.com. Today, she details the beginning of the search for a ride for 2010.

I woke up on Monday morning (Oct. 19), just over a week after the Homestead-Miami finale, and my one, over-riding thought is that I currently don't have a job.

There are lots of people out there in this situation at the moment, and in racing, at the end of each season, it's kind of normal for drivers to find themselves looking to the following season not yet sure what they'll be driving. It might be normal, but it's still a stressful time of year.

To put together a deal for the following year requires money, but sponsors are always hard to come across. Good teams always want good drivers, but teams have to be able to pay their bills too, or it will go out of business.

I train at PitFit, and on that Monday morning, the training was a chore. Normally, despite their consistent and varied attempts to kill me, I actually quite enjoy the challenge. However, for one of the first times ever, it just felt like a chore.

Then at lunchtime, I had a phone call from my manager back home in England. He asked whether I would like to go and have a seat made for a test at Kentucky this Thursday. Of course! And with Sam Schmidt Motorsports? Even better.

When I drove down to the SSM shop for the first time on Tuesday morning I felt like the new girl at school. I checked my kit bag probably a hundred times, and I was still convinced I was going to forget something obvious and look fairly stupid on my first day. Thankfully for once, I didn't…

In my meetings with the engineers before the test, they told me about how they run their cars, and given me a good idea what to expect when I got in. I knew it was going to be a bit different from what I was used to, so I took in all the advice they could give me. At 10 a.m. on Thursday, the car was in pit lane, and we were ready to rock 'n' roll.

My first few laps went something like this:

Lap 1 - It's cold out here today
Lap 2 -- Yep I'm still sliding
Lap 3 -- This is more like it
Lap 4 - Going flat out, now let's find out where this car likes to run
Lap 5 - Okay - now we're talking…

The car was completely different in handling terms from the car I've been driving all year, but immediately I started to understand and like driving it. The lap times followed suit and Lap 5 was the first 'money lap' of the day. Despite the different handling, I was running fast, consistent, and above all, enjoying it.

We had plenty more of those money laps over the course of the day, and overall, it was a great day's testing. I was so comfortable and confident in the car that I wished that the track was full of cars so that I could get a feel for driving it in traffic. If the car handled that differently by itself, I couldn't wait to find out what it would be like in a pack - bring it on!

Well next up for me - we do have plans to run again, perhaps on a road course. You'll have to watch this space!


Mann, Wilson to test at Kentucky with SSM

---
Pippa Mann will return to the cockpit of a Firestone Indy Lights car when she tests with Sam Schmidt Motorsports.

The one-day test is scheduled for Oct. 22 at Kentucky Speedway, where the team will be running Mann and Stefan Wilson.

"The only Firestone Indy Lights car I have driven up until now has been the #16 Panther Racing car, so it will be extremely interesting for me to test with another team," Mann said. "The chance to do so with an outfit as highly regarded as Sam Schmidt Motorsports is a great opportunity for me, and I'm really looking forward to getting onto the track. Although we're still undecided on plans for next year, this gives me a positive feeling about what we're trying to achieve."

Mann completed her debut Firestone Indy Lights season with Panther Racing, achieving a string of top 15 finishes, including three top ten results. The rookie driver also managed to claim a top ten qualifying spot in all of the oval races, and started her final race of the season from third on the grid.

"I have had the opportunity recently to speak with Pippa at length about her goals and ambitions in motorsports and was extremely impressed with her drive, determination, and focus to be successful," said Sam Schmidt Motorsports owner Sam Schmidt. "She has a very disciplined and technical approach, and we are very much looking forward to testing with her."

Mann hopes to announce plans for her 2010 season over the next few months.

---
In 2001 she decided to concentrate full time on karting and moved to Italy, the home of karting. As well as racing, Pippa found time to learn Italian (which she now speaks fluently) and to write for a number of motoring journals.

By 2003 Pippa was driving for one of the leading kart teams, CRG, and taking part in the highly competitive Italian, European and World Championship Kart races. In a field dominated by male drivers (maybe two or three women in every 80 drivers), Pippa is the only British female to have won an international kart race.

In 2004 Pippa returned to the UK and started racing in the UK Formula Renault Championship. During her first season Pippa held her ground in a very competitive field, racing against drivers with two or more years' experience in single seaters. Drove in the Formula Renault 2.0 UK for Team JVA

In 2005 Pippa secured a two-year contract to drive for Comtec Racing in the Formula Renault Eurocup. Comtec is the only UK team to compete in the Formula Renault Eurocup. Her first year in Eurocup saw her peaking at 14th, however Pippa says her highlight was qualifying 7th at Donington Park. 2005 also saw Pippa competing in the French Championships. Despite being new to the circuits and having only 40 minutes' testing at each race, Pippa was able to get into the points, the first female driver to do so in about ten years.

In 2006 Pippa raced in the Formula Renault 2.0 UK Championship as well as the Eurocup. She had a frustrating season but managed to achieve some of her best results ever, which led to her participating in some World Series by Renault tests over the winter.

In January 2007, Pippa signed for Cram by P1 Europe to become the first female to race in the World Series by Renault 3.5 Championship. She scored a point in her debut in the World Series by Renault 3.5 Championship. Earned a pole position in the World Series by Renault 3.5 Championship.

In 2008 she comepted in the World Series by Renault 3.5 for P1 Motrorsport with best finish of seventh at the Nurburgring. Raced with Team Eurotech in the Porsche Carrera Cup Great Britain in a Porsche 911 GT3 Cup 997.

2011 IndyCar Results (Grid/Finish/Qualifying Speed/Laps Completed/Status)

Date

Track

Start

Finish

Laps

Status

May 29

Indianapolis

31

20

198/200

Running

Aug 14

New Hampshire

DNS

NA

NA

Contact in practice

Oct 2

Kentucky

29

22

197/200

Running

Oct 16

Las Vegas
2010 Indy Lights Schedule/Results
| | | | | | |
| --- | --- | --- | --- | --- | --- |
| Date | Track | Start | Finish | Laps | Status |
| 3/28 | St Petersburg | 13 | 13 | 6 | Mechanical |
| 4/11 | Barbara Motorsports | 12 | 12 | 40/40 | Running |
| 4/18 | Streets of Long Beach | 12 | 8 | 45/45 | Running |
| 5/28 | Indy 100 | 1 | 16 | 2 | Contact |
| 6/19 | Iowa Speedway | 8 | 8 | 115/115 | Running |
| 7/4 | Watkins Glen | 9 | 14 | 1 | Contact |
| 7/18 | Streets of Toronto | 13 | 8 | 50/50 | Running |
| 7/25 | Edmonton Airport | 11 | 11 | 50/50 | Running |
| 8/8 | Mid-Ohio | NA | NA | 40/40 | Not race |
| 8/22 | Sonoma | 7 | 5 | 40/40 | Running |
| 8/28 | Chicagoland | 2 | 2 | 67/67 | Running |
| 9/4 | Kentucky Speedway | 1 | 1 | 67/67 | Running |
| 10/2 | Homestead | | 5 | | |
2009
| | | | | | | |
| --- | --- | --- | --- | --- | --- | --- |
| Date | Track | Start | Finish | Qual Speed | Laps | Status |
| 4/4/09 | St Pete | 20 | 18 | 91.074 | 40 | Running |
| 4/5/09 | St Pete | 22 | 24 | 92.878 | 17 | Contact |
| 4/19/09 | Long Beach | 22 | 14 | 91.565 | 45 | Running |
| 4/26/09 | Kansas | 5 | 16 | 186.386 | 57 | Contact |
| 5/22/09 | Indianapolis | 8 | 21 | 188.413 | 7 | Contact |
| 5/31/09 | Milwaukee | 9 | 9 | 145.176 | 98 | Running |
| 6/20/09 | Iowa | 7 | 13 | 159.909 | 105 | Running |
| 7/4/09 | Watkins Glen | 20 | 14 | 120.730 | 30 | Running |
| 7/11/09 | Toronto | 14 | 16 | 95.137 | 46 | Running |
| 7/25/09 | Edmonton | 15 | 11 | 99.740 | 49 | Running |
| 8/1/09 | Kentucky | 19 | 15 | NA | 65 | Running |
| 8/9/09 | Mid-Ohio | 18 | 15 | 104.280 | 40 | Running |
| 8/23/09 | Infineon | 15 | 14 | 98.186 | 40 | Running |
| 8/29/09 | Chicago | 5 | 9 | 188.300 | 64 | Running |
| 10/9/09 | Homestead | 3 | 8 | 185.364 | 67 | Running |
* * *

---
WomenInRacing.org
©1996-2019 by of Gordon Clay