Kick-Ass Women

---
Menstuff® has information on our Top 128 Kick-Ass Women on TV and in the Movies. These women don't Kiss Ass. Who did we miss and what was the movie or TV show? Add her here! This collection is dedicated to the memory of Farah Fawcett, who is a real angel now.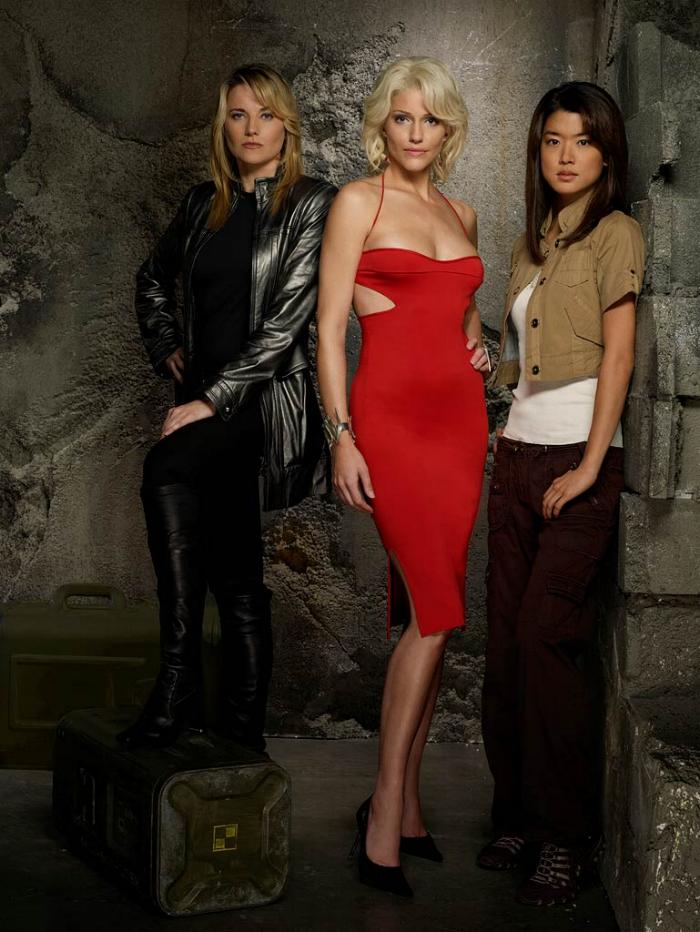 The three angels from Battlestar Galactica. Lucy Lawless, Tricia Helfer, and Grace Park. Proof that god must love sci-fi!

| | | |
| --- | --- | --- |
| 4:56 | 12:21 | 5:20 |
| The Origin Story of Wonder Woman | 7 Most Badass Female Soldiers | 10 Countries With The Most Beautiful Soldiers In The World |
Counting Down Our Favorite Sci-Fi Movie Babes, Past & Present
Hottest Sword Fighters
LesbiaNation's top ten women in science fiction
LesbiaNation Top Ten Women of Sci-Fi
My Top Ten Sci-fi Women of All Time
10 Ass-Kicking Sci-Fi Hotties
Hollywood's Top Ten : Top 10 Wet, Wild, and Sexy Movie Scenes


We Do Our Own Top 10
What The 'Ideal' Woman's Body Looks Like In 18 Countries

JESSICA ALBA
Susan Storm in "Fantastic Four"and "Fantastic Four: Rise of the Silver
Surfer," Max Guevera in "Dark Angel", "The Eye", "Venus Rising", "Sin City"
SUSIE AMY
"La Femme Musketeer", "Footballer's Wives", "Lesbian Vampire Killers"
GILLIAN ANDERSON
Dana Scully in "The X Files"
GABRIELLE ANWAR
Fiona Glenanne of "Burn Notice".
DEVON AOKI
"Sin City" and "DOA: Dead or Alive"
GEMMA ARTERTON
As Princess Tamina in Prince of Persia, Bond Girl in Quantum of Solace and Gretel in Hansel & Gretel

MORENA BACCARIN
Inara Serra in "Firefly" and Adria in "Stargate SG-1".
KATE BECKINSALE
"Underworld: Evolution", "Van Helsing", "Underworld Awakening", "Total Recall"
INGRID BERGMAN
"Joan of Arc"
SANDAHL BERGMAN
Valeria in "Conan the Barbarian", "All That Jazz", "She" and "Red Sonja"
HALLE BERRY
JESSICA BIEL
Chun Li in "Street Fighter", Abigail Whistler in "Blade Trinity"
CLAUDIA BLACK
"Pitch Black", "Farscape", "Stargate SG-1", "Xena", "Hercules" and "Beastmaster"
CATE BLANCHETT
"Indiana Jones"
FLORINDA BOLKAN
"Royal Flash"

Isabelle in "The Predators"
GENEVIEVE BUJOLD
Swashbuckler. Coma.

"Ring Girls", "Command & Conquer", Natasha in "Red Alert 3", Mallory Kane in "Haywire"
LINDA CARTER
"Wonder Woman"
SARAH CARTER
"DOA: Dead or Alive" and the TV series "Shark"
KIM CATTRALL
ERICA CERRA
Jo Lupo on "Eureka"
PEI-PEI CHENG
From1966 in "Come Drink With Me" through "Crouching Tiger, Hidden Dragon"
MAGGIE CHEUNG
"Hero"
JAMIE CHUNG
Chi Chi in "Dragonball: Evolution", Heaven in "Samurai Girl" and "Sucker Punch"
ALEXANDRA DADDARIO
Annabeth in "The Lightning Thief"
SYBIL DANNING
"Seven Magificent Gladiators" and "The Warrior Queen"
GENNA DAVIS
"Cutthroat Island"

Plays Tallis, an elven assassin in "Dragon Age: Redemption"
NICOLE dEBOER
"Star Trek", "Laura Croft"
LEXA DOIG
Rommie in "Andromeda", Dr. Carolyn Lam, Stargate Command's
chief medical officer in "Stargate SG-1"
NATALIE DORMER
"Casanova"
FAYE DUNAWAY
"The Gamble"
DEBRAH FARENTINO
Beverly Barlowe in "Eureka", Devon Adair in "Earth2"
FARAH FAWCETT
Alex in "Saturn 3"
CARRIE FISHER
Princess Leia Organa in "The Original Triolgy"
JANE FONDA
As Barbarella in "Barbarella"
MARIA FORD
"Burial of the Rats"
MEGAN FOX
SexFormer-5000 in "Transformers"
JENNIFER GARNER
"Alias", "Daredevil" and "Elektra"
SARAH MICHELLE GELLAR
"Buffy the Vampire Slayer"
KELLI GIDDISH
US Marshal Annie Frost on TV in Chase
SUMMER GLAU
River Tam in "Serenity"; and 'Cameron,' "Terminator: The Sarah Connor Chronicles"
PAM GRIER
"Wonder Woman"
SIENNA GUILLORY
"Eragon" and "Resident Evil: Apolcalypse"
LINDA HAMILTON
"Terminator"
DARYL HANNAH
Daryl Hannah plays a replicant in 1981's 'Blade Runner.' and "Kill Bill"
ANNE HATHAWAY
Catwoman (Selina Kyle) in "The Dark Knight Rises"

LENA HEADEY
The Doctor, "Terminator Sarah Connor Chronicles"
TRICIA HELFER
Plays Number Six, also known as Shelly Godfrey, Gina and Caprica Six on "Battlestar Galactica"
CHRISTINA HENDRICKS
Saffron in "Firefly"
NATASHA HENSTRIDGE
Alien Sil in "Species"
NICHOLE HILTZ
Queen of the Amazons in "Amazons and Gladiators".
JORDAN HINSON
Zoe Carter in "Eureka"
KELLY HU
"Street Fighter"
LAUREN HUTTON
"Zorro: The Gay Blade".
ANNIE ILONZEH
As Kate in new Charlie's Angels
STEPHANIE JACOBSEN
Kendra Shaw in "Battlestar Galactica: Razor",
Jesse in "Terminator: The Sarah Connor Chronicles"
SCARLETT JOHANNSON
As Natalie "from legal" Rushman in Iron Man 2, the Black Widow in "Avengers"

Laura Croft in "Tomb Raider", "Sky Captain and the World of Tomorrow."
CATHERINE ZETA-JONES
"The Mask of Zorro" and "The Legend of Zorro"
MILLA NATASHA JOVOVICH
Leeloo in "The Fifth Element", Alice in the "Resident Evil" series,
"Messenger: Story of Joan of Arc", "Ultraviolet" and "Perfect Gataway"
MINKA KELLY
in new Charlie's Angels
ALEX KINGSTON
"Warrior Queen"
KEIRA KNIGHTLEY
"Pirates of the Caribbean" movies, "King Lear", "King Arthur",
"Never Let Me Go" and Guenevere in "Anna Karenia"
REBEKAH KOCHAN
"Pirates of Treasure Island"
SYLVIA KRISTEL
"Mata Hari"
LAURENE LANDON
.The Female Conan the Barbarian
ALI LARTER
"Obsessed", Jessie in "Heroes", "Resident Evil - Extinctio"
and the whipped cream bikini in "Varsity Blues"
LUCY LAWLESS
Warrior Princess in "Xena" and
Cylon D'Anna Biers/Cylon Number Three in "Battlestar Galactica"
JENNIFER LAWRENCE
Katniss Everdeen in "The Hunger Games"
EVANGELINE LILLY
"Lost"
LUCY LIU
Plays O-Ren Ishii in "Kill Bill, Volume I"
CHRISTINA LOKEN
T-X in "Terminator 3: Rise of the Machines", "Mortal Kombat: Conquest",
"Voyager"; "Sliders"; "Painkiller Jane".
VIRGINIA MADSEN
"Earth2"
NATASSIA MALTHE
"DOA: Dead or Alive"
ROONEY MARA

As Lisbeth Salander in U.S. version of "The Girl with the Dragon Tattoo"
SOPHIE MARCEAU
"Revenge of the Musketeers"
LINDA MARLOWE
"The Big Zapper"
GUGU MBATHA-RAW
Samantha Bloom, CIA agent on TVs Undersovers
RACHEL McADAMS
"Sherlock Holmes"
CATHERINE McCORMACK
"Dangerous Beauty"
ROSE McGOWAN
Cherry
JACQUELINE McKENZIE
Diana Skouris in "The 4400"
KRISTY McNICHOL
"Bionic Woman" and Mabel of "The Pirate King"
MERIDA
"Brave" (Click on either photo.)
SIENNA MILLER
The Baroness Anastasia DeCobray in "G.I. Joe: The Rise of Cobra"
and in "Casanova"
RHONA MITRA
Major Eden Sinclair in "Doomsday"
DEMI MOORE
"G. I. Jane"
CARRIE-ANNE MOSS
Trinity in the "The Matrix Trilogy" and Cmdr. Kate Bowman in "Red Planet"
YU NAN
Maggie in Expendables 2
NICHELLE NICHOLS
Lt. Uhura in the original "Star Trek" series
RACHEL NICHOLS
Shana in "Scarlett" and O'Hara in "G.I. Joe"
BRIGITTE NIELSEN
"Red Sonja"
RENEE O'CONNOR
Gabrielle in "Xena: Warrior Princess"; "Alien Apocalypse"; "Genesis Code",
"Darkman II", and "Hercules: The Legendary Journeys"
MIRANDA OTTO
Played Eowyn in "Lord of the Rings: Return of the King"
SARAH PALIN
a.k.a. "the Barracuda" played the lead in "The End of Wildlife in Alaska"

Claire in "Heroes"
GRACE PARK
Lt. Sharon Boomer Valerii of "Battlestar Galactica". Hawaii Five-0 rookie cop Kona "Kono" Kalakaua
PIPER PERABO
"Lost and Delirious"
ROSAMUND PIKE
"Die Another Day"
PINK
She started life as Aleda Moore.
BILLIE PIPER
Rose Tyler, companion to the Doctor in the television series "Doctor Who"
NATALIE PORTMAN
Queen Padmé Amidala in "The Prequel Trilogy", "Mars Attacks",
and Evey in "V for Vendetta"
VICTORIA PRATT
"Xena: Warrior Princess" and "First Wave"
MAGGIE QUIGLEY
"Naked Weapon", "Mission Impossible 3", "Live Free", Die Hard 4", "Balls of Fury", Silver Fox in "Wolverine", Nakita as "Nakita"
AISHWARYA RAI
"The Last Legion"
NOOMI RAPACE
As Lisbeth Salander "The Girl with the Dagon Tattoo"
MICHELLE RODRIGUEZ
"Blood Rayne", Avatar
REBECCA ROMIJN
Mystique
SAOIRSE RORAN
Hanna in "Hanna"
DEANNA RUSSO
Plays Sarah Graiman in "Knight Rider"
JERI RYAN
Seven of Nine in "Star Trek Voyager"
MICHELLE RYAN
Lady Christina de Souza in "Doctor Who"
KATEE SACKHOFF
Starbuck of "Battlestar Galatica"
ZOE SALDANA
Lt. Uhura in "Star Trek XI", Cataleya in "Colombiana" and Neytiri in "Avatar"
XENIA SEEBERG
Kai in "Lexx"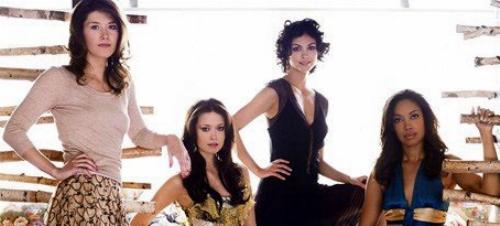 SERENITY GROUP

"Firefly-Serenity" cast. They're all different types. Fancy a no-nonsense,
take-charge leader? Look no further than tough-as-nails Zoe (Gina Torres).
How about a doe-eyed killing machine? That would be future "Terminator"
Summer Glau. Then there's "girl next door" mechanic Kaylee (Jewel Staite)
and space hooker Inara (Morena Baccarin).
MARLEY SHELTON
Dakota in "Planet Terror", "Eleventh Hour"
SIX
Voice of Jenny McCarthy in the great animated TV show "Tripping the Rift".
YVONNE STAHOVSKI
Plays Sarah Walker in the TV series "Chuck", Miranda Lawson in "Mass Effect 2"
JEWEL STAITE
Kaylee Frye in "Firefly" and adapted film "Serenity", "Battlestar Galactica",
Dr. Keller in "Stargate Atlantis", and on "Dead Like Me".
AMANDLA STENBERG
Plays Cataleya, the young Zoe Saldana in "Colombiana"

Snow White in "The Huntsman"
SHARON STONE
KRISTY SWANSON
"Buffy the Vampire Slayer" and "The Phantom"
TILDA SWINTON
The White Witch in
"The Chronicles of Narnia: The Lion, the Witch and the Wardrobe"
ERIKO TAMURA
Princess Yaeko in "Heroes", the swordsmith's daughter and Mai in "Dragonball".
AMANDA TAPPING
"The X Files", Cmdr Kate Girard "The Outer Limits", Lt. Col. Samantha Carter in
"Stargate SG-1", Colonel on "Stargate: Atlantis"; Dr. Helen Mangus in "Sanctuary".
Kelly and Taylor

RACHAEL TAYLOR
in new Charlie's Angels
CHARLIZE THERON
Æon Flux in "Æon Flux"
UMA THURMAN
Gattaca, "Kill Bill, Volumes 1 & 2" "Les Miserables".
ALICE TSENG
Qing Yi (Sky) in "Secret", and Ninja Ho in "Ninja: The final duel"
PATRICIA VELASQUEZ
Rachel in "The Mummy Returns"
JILL WAGNER
"Blade" vampirette Krista Starr
LINDSAY WAGNER
Jamie the "Bionic Woman"
.
QUVENZHANE WALLIS
Hushpuppy from "Beasts of the Southern Wild"

SIGOURNEY WEAVER
Ellen Ripley in "Alien", "Galaxy Quest", "Ghostbusters"
RACHEL HANNAH WEISZ
Evelyn "Evy" Carnahan-O'Connell in "The Mummy" and "The Mummy Returns"
PETA WILSON
Nikita, Code name Josephine from "Le Femme Nikita".
MICHELLE YOOH
"Crouching Tiger, Hidden Dragon". "Tomorrow Never Dies"
SO-YI YOON
"Legend of the Shadowless Sword".
VICKI ZHAO
"So Close"
ZHANG ZIYI
"Crouching Tiger, Hidden Dragon", "Hero", "The House of Flying Daggers",
"The Warrior", and "Rush Hour 2"

* * *

As for the Future, your task is not to foresee, but to enable it. - Antoine de Saint-Exupery


---
Contact Us | Disclaimer | Privacy Statement
Menstuff® Directory
Menstuff® is a registered trademark of Gordon Clay
©1996-2019, Gordon Clay