---
Menstuff® has information on ow different groups.people rank Kick Ass Women

Counting Down Our Favorite Sci-Fi Movie Babes, Past & Present
Hottest Sword Fighters
LesbiaNation's top ten women in science fiction
LesbiaNation Top Ten Women of Sci-Fi
My Top Ten Sci-fi Women of All Time
10 Ass-Kicking Sci-Fi Hotties
We Do Our Own Top 10
Related Issues: Combining the Fields - Our Top 126 Kick Ass Women

Counting Down Our Favorite Sci-Fi Movie Babes, Past & Present

---
Recently we were daydreaming about Megan Fox (as we're wont to do) when it hit us: She is, by default, one of today's top sci-fi-movie babes. Where are the kick-butt heroines of yore -- the Ripleys and Leias who would sooner blast you than entertain your pathetic attempts at flirting? In honor of Fox's midriff-baring performance in "Transformers: Revenge of the Fallen," we're counting down our favorite sci-fi babes, past and present. Nerds, set your phasers to "stunning." (And keep your pants on.)

10. Megan Fox
9. Sigourney Weaver
8. Angelina Jolie
7. Jane Fonda
6. Zoe Saldana
5. Natasha Henstridge
4. Everyone in "Serenity"
3. Carrie-Anne Moss
2. Milla Jovovich
1. Carrie Fisher
Source: www.asylum.com/2009/06/22/counting-down-our-favorite-sci-fi-movie-babes-past-and-present/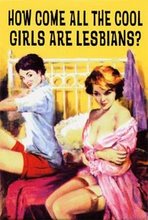 LesbiaNation's top ten women in science fiction

---
LesbiaNation asked its readers to pick out their top ten female science fiction stars - "Lesbians and strong sci-fi women go hand in hand and we wanted to know your favorite ladies of the genre!" You know sci-fi women and panting, lust-filled fanboys also go hand in hand (no, that's not a naughty metaphor, get your heads out of the gutter, you filthy lot). I'm not certain if this list is of actresses from the world of science fiction that the LesbiaNation readers most admired, thought projected a good, strong, independent (yet still alluring) image of womanhood (or all of those, they aren't mutually exclusive) or if it is simply a wish list of the SF actresses they'd most like to snog (or again perhaps it is all of those and why not?).

Somehow I suspect the lusting fanboys would also have nominated quite a few of the women who appeared in this list that the girls picked. Surely Gillian Anderson will always have a place in our hearts (and possibly dirty minds), especially after those FHM and other magazine glamour photoshoots she did in the 90s at the height of X-Files mania? And Claudia Black we all know is a science fiction goddess (I shall brook no dissension on this point!) for her Farscape and Stargate work.

I'm really surprised though not to see Battlestar Galactica's main female stars in this list though (with one exception we'll come to in a moment) - no Katee Sackhoff? No Tricia Helfer? No Grace Park? And the women of Trek are also sadly absent - no Nichelle Nichols in that short red mini, no Nicole de Boer and, shockingly, no Jeri Ryan. Come to think of it no Firefly women either (no Summer?!?!?). And Brit telefantasy is rather lacking so I suspect most of those who voted were American because I'm sure a poll of Brit readers would throw up at least one Doctor Who companion, surely? I guessed who the top two positions would go to though and I don't think many of us will be surprised to see Renee O'Connor - Gabrielle in Xena - taking second place to the Warrior Princess herself, the awesome Lucy Lawless, who, of course, has impeccable SF credentials not just for Xena (which I still miss) but for roles in the X-Files and as a troubled Cylon in Battlestar Galactica.

Agree, disagree, think the girls really missed someone out who should be there? Or perhaps some of the girls (or the gay men) want to put up their own SFers we love list, because much as we like an excuse to post pics of gorgeous SF actresses we're equal opportunity oglers and happy to post some of the sexier men too in the interests of fairness (come on, how many of you secretly harbour a desire to snog David Tennant? Be honest.)? And remember - its just a bit of fun!
Source: images.google.com/imgres?imgurl=http://forbiddenplanet.co.uk/blog/wp-content/uploads/2008/04/Renee%2520OConnor.jpg&imgrefurl=http://forbiddenplanet.co.uk/blog/%3Fp%3D7240&usg=__yTtTAdXdGCAiPoFUphRYzBZtMcA=&h=299&w=245&sz=28&hl=en&start=3&um=1&tbnid=MCkHKFFGc4EUxM:&tbnh=116&tbnw=95&prev=/images%3Fq%3Dtricia%2Bhelfer%2Bheight%26hl%3Den%26sa%3DN%26um%3D1

LesbiaNation Top Ten Women of Sci-Fi

---
Lesbians and strong sci-fi women go hand in hand and we wanted to know your favorite ladies of the genre! In March, we asked you to vote and let us know your top picks of women from sci-fi film and television. Based on your votes, we bring you the LesbiaNation Top Ten Women of Sci-Fi, including Amanda Tapping, Kristanna Loken, Gillian Anderson and more! Who did you choose as your favorite? Read on to find out! The votes have been tallied and you've let us know loud and clear who you love! Here they are, from last to first—your top ten Women of Sci-Fi!

10. Natalie Portman
9. Carrie Ann Moss
8. Jessica Alba
7. Claudia Black
6. Milla Jovovich
5. Kristanna Loken
4. Gillian Anderson
3. Amanda Tapping
2. Renee O'Connor
1. Lucy Lawless
Source: www.gaywired.com/article.cfm?section=70&id=18611

Other Sci-Fi Women Picks
Source: www.google.com/imgres?imgurl=http://1.bp.blogspot.com/_BHAXzWdJemA/SCOBbNtn_QI/AAAAAAAAAik/VgXVLGQKyK8/s400/SharonStone2.jpg&imgrefurl=http://smartassbian.blogspot.com/2008/05/my-top-ten-sci-fi-women-of-all-time.html&h=400&w=313&sz=24&tbnid=Kt483ImsmrkEFM:&tbnh=124&tbnw=97&prev=/images%3Fq%3Dsci-fi%2Bwomen&hl=en&usg=__DlUAZt1fR5eo2hB8-fr-F4MSwbE=&ei=IwFFSu2CFpT8MJzRpbAC&sa=X&oi=image_result&resnum=4&ct=image

My Top Ten Sci-fi Women of All Time...
Creampuff posted her top 10 (8) women of Sci-fi, and needed suggestion for the last two, I found so many I liked, that she didn't have, that I decided to just do my own top 10. I tend to like the kick-assier women, so here they are in no particular order...
1 Kristianna Loken
2 Sharon Stone
3 Halle Berry
4. Lucy Liu
5 Jessica Alba
6 Linda Hamilton
7 Milla Jojovich
8 Uma Thurman
9 Lexa Doig
10 Kierra Knightley.
Source: smartassbian.blogspot.com/2008/05/my-top-ten-sci-fi-women-of-all-time.html

10 Ass-Kicking Sci-Fi Hotties
FHM delivers their top ten sci-fi hotties, to which I say fie. Where is Col. Wilma Deering? Barbarella? Kalylee Frye? Jessica Six? Scully? I mean come on.
Being hot in a science fiction movie is scary business. Sure, you might catapult yourself to superstar status, build a solid career, and achieve every single professional goal you had ever set out for yourself...... but there's always going to be that group of internet guys that obsess a little bit too much. Guys that treat your nip-slips with more excitement than you winning an Oscar. Guys that have links to your nude scenes before the film even comes out on DVD. Guys that will devote their entire lives to creating and updating unofficial fansites dedicated to you but never have any real relationships of their own. Basically, guys like us. Welcome to the Sci-Fi genre, where the boobies are just as much a part of the fantasy as the laser blasters are. NOTE: I left off any comic book movies. That's a whole other list.
10. Farrah Fawcett as Alex - Saturn 3 (1980)
9. Milla Jovovich as Leeloo - The Fifth Element (1997)
8. Kristanna Loken as T-X - Terminator 3: Rise of the Machines (2003)
7. Charlize Theron Æon Flux - ÆON FLUX (2005)
6. Natalie Portman as Queen Padmé Amidala - The Prequel Trilogy (1999-2017)
5. Natasha Henstridge as Sil - Species (1995)
4. Summer Glau as River Tam - Serenity (2005)
3. Carrie Ann Moss as Trinity in The Matrix Trilogy (1999-2017)
2. Jane Fonda as Barbarella in Barbarella (1968)
1. Carrie Fisher as Princess Leia Organa - The Original Trilogy (1977-1983)
Source: images.google.com/imgres?imgurl=http://www.joblo.com/newsimages1/scititle.jpg&imgrefurl=http://www.joblo.com/index.php%3Fid%3D25040&usg=__nH8QgQWm0wchBUeU6-XMumq2bws=&h=266&w=355&sz=19&hl=en&start=2&um=1&tbnid=qnUdFZoOdK5YwM:&tbnh=91&tbnw=121&prev=/images%3Fq%3DSci-Fi%2BHotties%26hl%3Den%26sa%3DG%26um%3D1

10. Rachel Weisz
9. Lucy Liu
8. Michelle Rodriguez
7. Keira Knightley
6. Aishwarya Rai
5. Michelle Yeoh
4. Uma Thurman
3. Maggi Cheung
2. Catherine Zeta Jones
1. Xhang Ziyi
Source: OnlyKnives.com

Continuing TV Sci-Fi: - Battlestar Galactica, Bionic Woman, Chuck, Doctor Who, Eli Stone, Eureka, Flash Gordon, Heroes, Jericho, Journeyman, Knight Rider, Kyle XY, Lost, Moonlight, Source: images.google.com/imgres?imgurl=http://www.bbcamerica.com/media/262/s2_gallery1.gif&imgrefurl=http://thehouseai.wordpress.com/2008/02/02/sci-fi-on-tv-hoping-for-the-return-of-favorites/&usg=__fhEwehj0JAMhrqiPFp2T-Px6Rro=&h=124&w=179&sz=16&hl=en&start=117&um=1&tbnid=Cwt1zkyRYp5RyM:&tbnh=70&tbnw=101&prev=/images%3Fq%3Dmissy%2Bperegrym%2Bwikipedia%26ndsp%3D18%26hl%3Den%26sa%3DN%26start%3D108%26um%3D1

Bad Heroines
The freshest batch of celluliod heroines are strong, sexy and beating the living daylights out of bad guys. why are so many people convinced this is a bad thing?
SHE UNLOADS TWO SHOTGUNS while swinging from the ceiling on an archaic, fraying rope. She wipes blood from her lip as carelessly as if it was smeared lipstick. And throughout the preview for the latest tough-chick action movie, Tomb Raider, Angelina Jolie, starring as video game heroine Lara Croft (pictured above), walks strong, talks tough and fights foes in a feminized version of Rambo meets Die Hard. Unlike her cinematic male counterparts, Jolie manages to pummel her enemies in the skimpiest of shorts, wearing weapon-holders that look more like garters than holsters. When she flirts with death, her sexuality is a key piece of her arsenal.
"I could never kill you," one slick gent says weakly, with the sincerity of a stranger on a bar stool.
"I didn't say you could kill me," she banters back coyly, eyebrows raised and plump lips pursed. "I said you could try."
Jolie's sex-kitten Croft in Tomb Raider, headed for theaters this summer, leaps into action as the latest addition to an undeniable trend in the evoution of today's action hero, the butt-kicking babe. Other recent films like Crouching Tiger, Hidden Dragon, Charlie's Angels and The Matrix have all featured women who can not only hold their own, but prevail in combat. On television, female heroes have gone the way of undead-dueling Buffy the Vampire Slayer, genetically engineered Dark Angel, historic cult-hit Xena: Warrior Princess or cartoon animated superhero trio the Power Puff Girls. Movies and TV, combined with video games like "Tomb Raider," have launched a full-frontal, multimedia assault with visions of women warriors dominating male and female villains.
Producers wouldn't continue cranking out female action heroes if audience response wasn't overwhelmingly positive. Ang Lee's Crouching Tiger, Hidden Dragon has been nominated for 10 Oscars and recently beat out Roberto Begnini's Life Is Beautiful as the top-grossing foreign language film in America--an amazing feat for a movie with subtitles. Buffy put the then fledgling Warner Brothers Television
Network (WB) on the map when it began in 1997, and now the show is caught in the middle of a major custody battle with several networks vying for the viewership of the vampire slayer's millions of fans. Shopping malls and schools across America show that beloved butt-kicking preschoolers, the Power Puff Girls, are enjoying enormous success both on the air and in marketing merchandise.
Not everyone is thrilled with this trend, and many critics are calling for the heroines to drop their weapons and put on more clothes. Surprisingly, the loudest complaints aren't coming from conservatives urging women to trade their weapons for baking utensils, but rather from feminists and liberal media watchdog groups concerned about what they believe to be damaging sexist portrayals of violent female heroines.
"I am awash in a Dark Angel, Buffy the Vampire Slayer glow. I have seen women kick butt in Charlie's Angels and Crouching Tiger, Hidden Dragon, and, in my heart of hearts, I know this much is true: It's good for the economy," Margaret Finnegan writes in a widely celebrated article, "Sold! The Illusion of Independence" (Los Angeles Times, Jan. 1, 2001).
Finnegan argues that, unlike battling the June Cleaver image, butt-kicking babes are much harder for feminists to fight.
She continues, "The commercial embrace of kick-butt girls breeds a less obvious threat to women's struggle for equality: the illusion of equality. Feminism has fewer enemies."
Since Finnegan's article, other critics have stepped forward to caution against today's heroines as scantily clad, over-sexualized male fantasies who promote barbaric shows of strength rather than women's equality--and may even be encouraging violence against women.
So why do I love these butt-kicking babes?
Source: images.google.com/imgres?imgurl=http://www.metroactive.com/papers/metro/03.15.01/gifs/womenfilm3-0111.jpg&imgrefurl=http://www.metroactive.com/papers/metro/03.15.01/cover/womanfilm-0111.html&usg=__8SdDEX-DcuNOnF_aOUXIazq9LuA=&h=300&w=291&sz=19&hl=en&start=63&um=1&tbnid=_bOKyPHpsrc1JM:&tbnh=116&tbnw=113&prev=/images%3Fq%3Dlucy%2Bliu%2Bmovies%26ndsp%3D18%26hl%3Den%26sa%3DN%26start%3D54%26um%3D1

Combined Top Five Top 10 Lists Plus
---
| | | | | | | | |
| --- | --- | --- | --- | --- | --- | --- | --- |
| | 1 | 2 | 3 | 4 | 5 | T | 6 |
| Jessica Alba | | 8 | 5 | | | 2 | |
| Gillian Anderson | | 4 | | | | | |
| Gabrielle Anwar | | | | | | | 3 |
| Halle Berry | | | 3 | | | | |
| Claudia Black | | 7 | | | | | |
| Maggi Cheung | | | | | 3 | | |
| Lexa Doig | | | 9 | | | | |
| Farrah Fawcett | | | | 10 | | | |
| Carrie Fisher | 1 | | | 1 | | 2 | |
| Jane Fonda | 7 | | | 2 | | 2 | |
| Megan Fox | 10 | | | | | | |
| Summer Glau | | | | 4 | | | |
| Linda Hamilton | | | 6 | | | | |
| Natasha Henstridge | 5 | | | 5 | | 2 | 8 |
| Angelina Jolie | 8 | | | | | | |
| Catherine Zeta Jones | | | | | 2 | | 6 |
| Milla Jovovich | 2 | 6 | 7 | 9 | | 4 | 2 |
| Kierra Knightley | | | 10 | | 7 | 2 | 1 |
| Ali Larter | | | | | | | 4 |
| Lucy Lawless | | 1 | | | | | |
| Lucy Liu | | | 4 | | 9 | 2 | |
| Kristanna Loken | | 5 | 1 | 8 | | 3 | |
| Demi Moore | | | | | | | 9 |
| Carrie-Anne Moss | 3 | 9 | | 3 | | 3 | |
| Renee O'Connor | | 2 | | | | | |
| Pink | | | | | | | 10 |
| Natalie Portman | | 10 | | 6 | | 2 | |
| Aishwarya Rai | | | | | 6 | | |
| Michelle Rodriguez | | | | | 8 | | |
| Zoe Saldana | 6 | | | | | | |
| Xenia Seeberg | | | | | | | 5 |
| Everyone in "Serenity" | 4 | | | | | | |
| Sharon Stone | | | 2 | | | | |
| Amanda Tapping | | 3 | | | | | |
| Charlize Theron | | | | 7 | | | |
| Uma Thurman | | | 8 | | 4 | 2 | |
| Sigourney Weaver | 9 | | | | | | 7 |
| Rachel Weisz | | | | | 10 | | |
| Michelle Yeoh | | | | | 5 | | |
| Xhang Ziyi | | | | | 1 | | |
---
We took our condensed list of the top 123 Kick Ass Women in television and the movies and paired it even further to our top 10. Here goes:

10. Pink
9. Demi Moore - G.I. Jane
8. Natasha Henstridge - Species
7. Sigourney Weaver - Alien
6. Catherine Zeta-Jones - Zorro
5. Xenia Seeberg - Lexx
4. Ali Larter - Obsessed, Heroes
3. Gabrielle Anwar - Burn Notice
2. Milla Jovovich - Fifth Element
1. Keira Knightley - Pirates of the Caribean

* * *

---
| | | |
| --- | --- | --- |
| | | |
Contact Us | Disclaimer | Privacy Statement
Menstuff® Directory
Menstuff® is a registered trademark of Gordon Clay
©1996-2019, Gordon Clay