LATEST SNIPPET
NASCAR's Angela Cope grids 37th of 43 at Michigan International and finishes 28th (last car running but she's still running 6 laps down.)

Profile
Results
Schedule
Snippets
News
NASCAR's Cope twins in racy Maxim spread
Truck Series is about to get a double injection of style
Racing's Cope Twins look good, go fast
Related Issue: Women Racers Directory, Women in Racing, Women Racers, More Women in Racing, Race Schedules, Notable Women
Contact: eMail | www.twinmotorsportsracing.com

Shortcut to this page: http://bit.ly/f9nX4D
Born: August 18, 1983 (both)
Origin: Puyallup, WA
Height: 5' 3"?
The first Twins of NASCAR!
For continuing in the family business of NASCAR and offering something a little new to a sport that is otherwise all testosterone and octane. These fraternal twins are the nieces of 1990 Daytona 500 winner, Derrike Cope, and are also third-generation members of that racing family.
They began racing at the age of 9 in Go karts and quickly made names for themselves by winning poles and races year after year. At the young age of 15 they step up to late model race cars even before they had their license to drive. They instantly acquired national attention when they were featured on Bryant Gumble "Good Morning Today".
In 2002, Angela Cope won the Lucas Oil Can-Am 150 at the Sun Valley Speedway. In 2008 they both qualified for the ARCA Re/Max series at Kentucky Speedway, in the 8th and 15th spots. They trained under their uncle Derrike and in 2006, they split driving time in the ARCA Re/Max Series at Berlin, Gateway, Chicagoland, Milwaukee and Toledo. The twins competed against their uncle earlier this year and have plans to compete in five or six races for the year. The Copes are also admitted fashion enthusiasts and have an online boutique on their website.
After numerous feature wins and pole position these two attractive and dynamic young women are ready to take the next step towards to the most elite form of motorsports…"NASCAR".
They're currently competing in NASCAR's Nationwide Series, becoming the first twins ever to do so. They've been racing consistently since they were nine years old and from 2001 – 2010 they competed in 47 races in Super Late Models and Automobile Racing Club of America (ARCA).
Awards Fifty first place wins between the twins.

---
NASCAR's Cope twins in racy Maxim spread.

* * *
Angela was gridded 42nd of 43 cars in the Nationwide NASCAR race at Kansas and finished 32nd after getting involved in a accident on the 167 of 200 laps.
* * *
NASCAR Truck Series is about to get a double injection of style Amber and Angela Cope hoping to blaze a new trail.

* * *
Angela tested for the 2010 ARCA Racing Series at Daytona. She was the 8th fastest woman and 52nd out of 60 drivers.

---
NASCAR's Cope twins in racy Maxim spread

---
Amber and Angela Cope realized a lifelong dream when the twins both made their NASCAR debuts in the same race in 2010.

They realized another dream last year when Angela finished ahead of her uncle, 1990 Daytona 500 winner Derrike Cope, in a Nationwide Series race at New Hampshire Motor Speedway.

Now the racers/models have realized another dream, perhaps, by being featured together in Maxim magazine.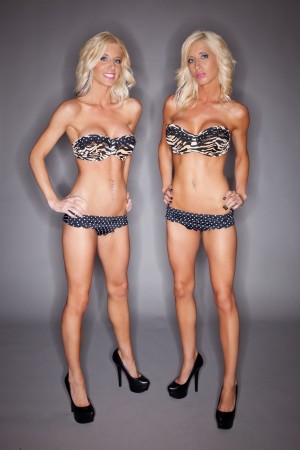 The Cope twins are featured in the March issue under the headline "Twin Turbos." They were photographed wearing black, bikini swimsuits and, in another spread, wearing cutoff blue jeans and denim overalls as they lean against their NASCAR stock car.
The twins began racing when they were nine years old and worked their way up through the go-kart and late model ranks. Both have raced in the ARCA Series and they became the first twins to make a NASCAR race when they qualified for the 2010 Camping World Truck Series race at Martinsville Speedway, finishing 26th (Amber) and 30th (Angela).
Source: aol.sportingnews.com/nascar/story/2012-02-17/nascars-cope-twins-in-racy-maxim-spread?icid=maing-grid10%7Chtmlws-main-bb%7Cdl7%7Csec3_lnk2%26pLid%3D136731

Truck Series is about to get a double injection of style. Amber and Angela Cope hoping to blaze a new trail

---
When cosmetologists graduate from beauty school, naturally they go to the salon for employment. But that's not always the case. According to a particular pair I spoke with, they're going truck racing instead.

Angela and Amber Cope, twin sisters and the nieces of 1990 Daytona 500 winner Derrike Cope, are on a mission to show NASCAR that you can beat and bang on the race track and look hot at the same time.
Daytona ARCA Test
Cumulative drafting speeds*
January, 2010

Driver

Time

Speed

49.192

182.957

49.443

182.028

49.475

181.910

49.512

181.774

49.795

180.741

50.516

178.161

50.674

177.606

51.498

174.764

51.676

174.162
* Female drivers
How so?
Think Christina Aguilera before motherhood and then put her in a fire suit. You now have an idea of what the Cope twins, who started racing go-karts at age 9 across the Northwest, look like.
Their stock-car racing began nearly five years ago when the sisters left Puyallup, Wash., and moved cross-country to Mooresville, N.C., upon their uncle's request. He knew they had an interest and wanted to turn them into hard-core racers. But first he would have to make some concessions about their glitzy exteriors and learn how to be a surrogate father.
"I can put up with the platinum hair and makeup, but I told them we can't do heels or holes in the jeans at the track," said Derrike Cope, who divorced years ago and never had children of his own. "Angela and Amber -- any female racer for that matter -- they come with a unique set of challenges but the girls know I have a strong work ethic and we've become close over the years."
A veteran of 409 Cup Series starts, Cope recently launched Stratus Racing Group Inc. and will compete in the Nationwide and Truck series. Cope will drive in both series while the twins are slated to drive in a limited number of Truck races.
And there's only so much funding to go around, therefore, the twins will be forced to share the ride. Fortunate for them, sharing is not a new concept. Outside of their go-kart days, the twins have split seat time in every ride they've ever campaigned -- be it super late models or ARCA cars.
"We trade off every other race and when Amber is in the car I will spot for her or help her out and when I'm in the car she helps me get buckled in and will give me pointers on track conditions," Angela Cope said.
Looking to secure sponsorship and start NASCAR's approval process for superspeedways, Amber and Angela attended the highly-publicized ARCA test on Dec. 18-20 in Daytona where Danica Patrick and six other females all made laps."
I think the obstacles we run into is that we are girly girls, we are blonde and everyone thinks that we are out to be models not racers. We will make our mark in this sport, earn everyone's respect and look great. There has to be a woman driver that will have it all."- Angela Copea
Amber and Angela didn't top the speed charts, nor were they the fastest of the females, but gaining notoriety or capitalizing on Patrick's entry into NASCAR is not their focus.
"We were out there to just get some laps, we are not looking to run ARCA, we just needed to get back in a car after being out for over a year and we were out there for our sponsors," Angela said.
But the Copes do admit the timing can only help generate buzz and media attention for their truck debut, which may be at Martinsville, the same track Chrissy Wallace debuted at in 2008.
However, Wallace, like so many other aspiring talents -- female or not -- doesn't have sponsorship and, therefore, no ride for 2010. Strategic and mindful of how important long-term financial support is, the Cope twins fear their careers will stall out as well.
"We've been trying for a long time now and that's why we both went to cosmetology school and both had jobs," Angela said. "The funding was never there for us and we never found anyone to back us up."
In addition to financial pressures, Angela said she fears the NASCAR community will not take the twins seriously.
"I think the obstacles we run into is that we are girly girls, we are blonde and everyone thinks that we are out to be models not racers," she said. "We will make our mark in this sport, earn everyone's respect and look great. There has to be a woman driver that will have it all."
Yes, and Danica hopes it is her. The open-wheel star has already established her total package status in the IndyCar Series. Time will tell how far her talents and charm will take her in the NASCAR community. So it's still anyone's guess as to who will be NASCAR's next great female racer or how long she will stay.
The Cope twins want a shot. And with some stock-car racing under their belts and round-the-clock guidance from their uncle, it could happen.
"I know female racers come and go, but it just comes down to driving on a consistent basis," Derrike Cope said. "These girls are going to go through the process and build from there. We are going to show up and serve our time."
One thing is certain, the twins are going to stand out among the seasoned, rough-and-tumble truck drivers.
"We'll be hard to miss with our platinum blonde hair and big Dior glasses," Angela said.
Source: www.nascar.com/2010/news/opinion/01/15/splash.go.rswan.acope.amcope.truck/story_single.html

Racing's Cope Twins look good, go fast

---
Newton, Ia. — The Cope twins are heaven on the eyes and hell on four wheels. The first thing you notice on their website is this giant picture of Angela and Amber, posing in strapless black dresses. A click on the photo gallery sends you to a collection of 10 shots: four glamour pics in those same black dresses and six from the track. It's an eclectic mix, pitched somewhere between Sports Illustrated and Vogue.

"At this point, the name of the game and what it is today, you've got to use whatever you can possibly use," Angela says, matter-of-factly. "I mean, we're trying to take every opportunity we can right now to get money in the door, to get people to believe in us."

For the Copes, good looks are as much a business strategy as they are a blessing. Such is life when you're a female driver in a male-dominated, testosterone-fueled world of professional stock car racing, the goodest and oldest of the good ol' boy networks.

"I think you could go back to a time in the sport when ladies weren't allowed in the garages at all, let alone participate as a driver," series director Joe Balash says of Sunday's John Deere Dealers of Iowa 250 — the first NASCAR Nationwide race ever slated to feature three women in the field. "So when you're having a change in what the thought process is, and you welcome female drivers into the garage — and not only drivers but mechanics and crew chiefs and spotters — the sport is open to anybody that wants to compete in it."

The revolution is still a work in progress, and it didn't happen overnight. Since 1991, the Nationwide series has featured multiple women drivers in a race 18 times. But never more than two — until now.

"There's a lot of good that comes out of being a female driver and there's a lot of bad that comes out of being a female driver," offers NASCAR veteran driver and owner Jennifer Jo Cobb, the third woman scheduled to run at Iowa Speedway. "It's still sort of in a bit of a pioneering stage, and that can become tough sometimes. And what's really tough is when you're struggling, you're highlighted."

Cobb has a top-10 finish and more than $330,000 in career winnings on NASCAR's Camping World Truck series circuit, but the jump to Nationwide has been a far bumpier road. Of her seven starts this season, the Kansas native has finished only two.

"I'm blessed with a really good and I feel like a large fan base," Cobb says. "But I've had a few anonymous emails (that say), 'Go wash some clothes,' or something. It's definitely like 90 percent positive reaction and 10 percent negative reaction. And zero negative in person."

Meanwhile, the Cope twins — nieces of 1990 Daytona 500 winner Derrike Cope — are in line to make their Nationwide debut, having run in a NASCAR Truck event for the first time last October (Amber finished 26th; Angela wound up 30th).

"We're pretty, thank you, we appreciate it," Amber says. "But at the same time, we're here to be drivers full-time."

It's a delicate, tricky balance. You need sponsors, and sponsorship money, to stay on the track. In the same breath, you want to be respected by peers and fans. Whether it's a shirtless Carl Edwards on a magazine cover or Danica Patrick in a swimsuit, sex sells.

"Even though I'm over 35, my mom still kind of keeps my moral compass, I guess," Cobb says. "She's like, 'You know, Jen, don't go sprawling across the hood of a car in a bikini to advance your career.' If you do it, or if you don't do it, you're going to divide the sentiment."

A few years back, one of Cobb's sponsors also happened to make lingerie. She was flown to New York City for a photo shoot in evening wear. At times, it felt awkward and uncomfortable. There are limits, Cobb says, and everyone's boundaries are different. Recent Drake Relays favorite Amy Acuff has appeared in the pages of Playboy, for example — a notion that doesn't interest Jennifer in the slightest, regardless of the dollars involved.

"It's like getting a tattoo: Once you've done it, you have to live with it," Cobb says. "To me, (Playboy is) something you do after your career to show you've still got it. That's not something you do to advance your career, if you do it at all."

For all three, Newton is about more than self-promotion. It's about opening doors. It's about shattering glass ceilings and old stereotypes.

"They can wear makeup and do their hair all the time and look pretty," Amber says, "and they can still get behind the wheel and go 170 miles per hour."

You go, girl.
Source: hfemaleracingnews.com/circle_track/racings-cope-twins-look-good-go-fast/

NASCAR NATIONWIDE SERIES - 2012
| | | | | | |
| --- | --- | --- | --- | --- | --- |
| Date | Track | Start | Finish | Laps | Status |
| Jun 16 | Michigan | 37 | 28 | 119/225 | Running |
| Nov 17 | Homestead-Miami | | | | |
2011 NASCAR Nationwide Race Stats
| | | | | | |
| --- | --- | --- | --- | --- | --- |
| Date | Track | Start | Finish | Laps | Status |
| May 22 | Iowa | 34 | 28 | 230 | Running |
| Oct 8 | Kansas | 42 | 32 | 167 | Accident |
| Oct 14 | Charlotte | 35 | 43 | 0/200 | Accident |
* * *

---
WomenInRacing.org | Contact Us
©1996-2019 by Gordon Clay