Gay/Bi/Trans News

---
Menstuff® has compiled news and information on the issue of Gay/Bi/Trans sexuality.


WEEKLY/MONTHLY COLUMNS

Comes
Naturally

Minor Details

Get It On

Sex Talk

Sex Health

Joe Kort
GayHealth.com is the first health and wellness site dedicated to Lesbian, Gay, Bisexual and Transgender men and women. Staffed by professionals from within our own community, the site provides easy, private access to accurate, current and vital health information. As an added service to our visitors, GayHealth.com provides a weekly newsletter of important lesbian, gay, bisexual and transgender health and wellness information. Complete articles about all of the highlighted information is available on the site www.GayHealth.com

Send them your story: It's been two decades since the first AIDS cases were reported in the U.S., and we'd would like to know how AIDS has touched your life. www.gayhealth.com/templates/0/news/index.html?record=570

Urban Health Project www.urbanhealthproject.com/templates/0/urban/index.html

Latest News www.gayhealth.com/templates/0/news/index.html

Sign Up for Their Newsletter. To add your address to their mailing list, visit www.GayHealth.com

and select "Newsletter Sign Up."
Ask Their Doctors Anything. See some of the questions below. www.gayhealth.com/templates/0/network/ask/index.html

Mexico Markets First Gay Beer
The Gay World Cup of Soccer - 9/29/07
Glossary of Sex Terms

---
Are you gay and a beer drinker? According to The Advocate, a Mexican brewery is coming out with what it says is the first beer aimed at gay drinkers, who it claims are being ignored by brewers.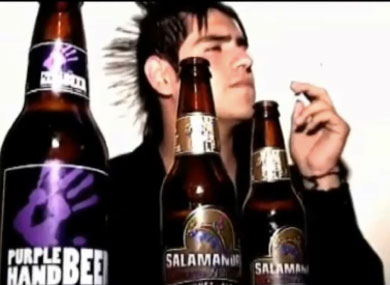 "We're out in the market with the idea of offering a product directed to the gay-lesbian community that has been ignored for too long but is important and very demanding," a rep for the Minerva brewery tells a Mexican news agency.
"Artisan Honey-Ales" will sell in Colombia, Japan, and Mexico and may soon be available in the United States. The beer's names pay tribute to gay icons and events. Purple Hand, for example, honors a 1969 San Francisco protest.
The beer's labels can also be removed and worn.
The company is also planning to launch a strawberry-flavored beer.
Here's yet another take on gay beer: www.ebaumsworld.com/video/watch/679770

* * *

Homosexuality is always elsewhere because it is everywhere. - Renaud Camus

---
Contact Us | Disclaimer | Privacy Statement
Menstuff® Directory
Menstuff® is a registered trademark of Gordon Clay
©1996-2019, Gordon Clay